Conceptualizing Big Social Data
Journal of Big Data
2017
4:3
Received: 1 November 2016
Accepted: 12 January 2017
Published: 25 January 2017
Abstract
The popularity of social media and computer-mediated communication has resulted in high-volume and highly semantic data about digital social interactions. This constantly accumulating data has been termed as Big Social Data or Social Big Data, and various visions about how to utilize that have been presented. However, as relatively new concepts, there are no solid and commonly agreed definitions of them. We argue that the emerging research field around these concepts would benefit from understanding about the very substance of the concept and the different viewpoints to it. With our review of earlier research, we highlight various perspectives to this multi-disciplinary field and point out conceptual gaps, the diversity of perspectives and lack of consensus in what Big Social Data means. Based on detailed analysis of related work and earlier conceptualizations, we propose a synthesized definition of the term, as well as outline the types of data that Big Social Data covers. With this, we aim to foster future research activities around this intriguing, yet untapped type of Big Data.
Keywords
Big Social DataSocial Big DataDigital humanConceptualizationSocial DataSocial mediaComputational social scienceSocial computingClassificationBig Social Data analysis
Introduction
Background
We live in an "always-on society" [1–3], meaning that people constantly interact with each other. Due to the rapid development of social computing and mushrooming of social media services, much of social interaction is nowadays mediated by information technology and takes place in the digital realm. An average Internet user consumes and shares large amounts of digital content every day through popular social online services, such as Facebook, Twitter, YouTube, Instagram and SnapChat.
From data perspective, this has led to emergence of extensive amounts of human-generated data [4, 5] with diverse social uses and rich meanings (for example, communication text, videos for entertainment and self-representation, sharing of news and other 3rd party content in social media). Such unstructured/semi-structured, yet semantically rich data has been argued to constitute 95% of all Big Data [6]. This Social Data explosion has resulted in theorizations and studies about the emerging topic of Big Social Data (BSD).
Broadly speaking, BSD refers to large data volumes that relate to people or describe their behavior and technology-mediated social interactions in the digital realm. The sheer volume and semantic richness of such data opens enormous possibilities for utilizing and analyzing it for personal [7, 8], commercial [9, 10] as well as societal purposes [11–13]. For example, the scattered social media would benefit from meta-services that bring together all the content from a user. Commercial use could include even more targeted advertising, matchmaking services, or many unimaginable data-centered business models [14, 15]. The search for beneficial applications and services in regard to BSD has only just begun.
Central concepts and goals of the research
In the research literature, the concept of Big Social Data has been defined and interpreted in many ways for various purposes; for example, the viewpoints from which it has been explored include social media, online social networks, social computing, and computational social science (CSS). The role of these fields in the scope of BSD is discussed in detail in the following sections.
As a rule, BSD is mainly utilized to extract insights from social media data and online social interactions of people for descriptive or predictive purposes to influence human decision-making in various application domains [16–18]. In general, researchers have focused on the analytics and utilization, having paid little attention to clarifying the very concept of BSD and understanding the related phenomena (for example, [19–21]).
In fact, there seems to be lack of consensus about the definition of BSD and the related terms, as we will analyze in the upcoming sections. Inconsideration of proper conceptualization may bring researchers methodological challenges in their studies, especially in such inherently broad and multi-disciplinary field as BSD.
Therefore, we argue for conceptual and theoretical work about the concept of BSD in order to inform future research activities as well as to foster the practical utilization of the data, which may signify social insight. There is a timely need to describe, review, and reflect on BSD literature in order to bring clarity to the concept and understanding about its beneficial opportunities for the practitioners of computational social science and other related research fields.
The potential value of this paper for the readers is presented as follows:
1.

Firstly, by the literature review we aim to bring clarity on various existing BSD concepts and its definitions. We discuss relations between BSD and related fields of science in order to inform readers about the domains where this concept is currently applied. We consider these aspects will help researchers to properly identify scope and directions for their investigation on the topic;

2.

Secondly, by providing a synthesized concept and definition of BSD we want to motivate researchers to develop better conceptualizations and clarifications of the BSD meaning in regard to their research. Currently, the majority of papers related to the topic are focused on analytical tasks and methods missing the explanation about what researchers consider as BSD and why. As an improvement step towards a holistic approach to this emerging field, BSD practitioners can utilize the definition presented in this work by revising it according to their research objectives;

3.

By providing a comprehensive list of BSD types we aim to inform researchers about categories of data that is currently available for research and analysis. This serves as a starting point to identify research opportunities and practical means towards data-driven research. It is worth noting that there is no extensive taxonomy of BSD in related literature and we neither aim to design one; however, our classification of such data serves as an inducement to the research community for collaboratively creating this taxonomy;

4.

Moreover, by describing the key characteristics of BSD we differentiate it from the concept of Big Data. By doing so, we anticipate the emphasis on its unique qualities to open new opportunities for multi-disciplinary research ventures.
In general, we assume this work will attract researchers' attention to explore the holistic view on BSD concept and help them to identify relevant sources of data to utilize in BSD studies.
Related concepts and literature
Due to rapid development of online social services and tremendous growth of data therein, various concepts have emerged in different research fields to help understanding digital environments and their social effects. This section reviews related concepts relevant to BSD and their correlations, as well as outlines existing literature on the topic (see Fig.
1
).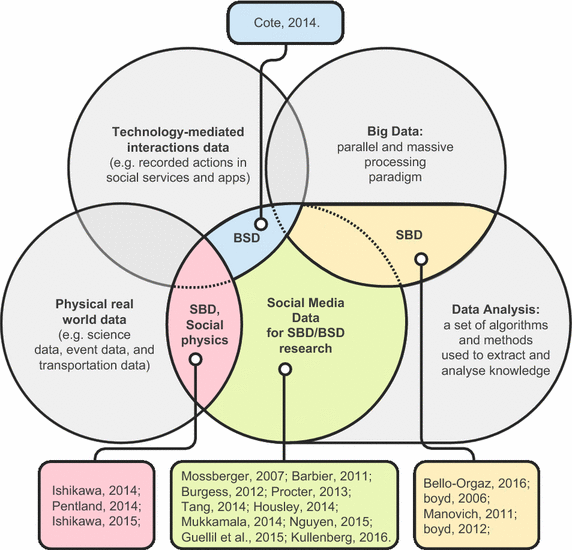 There are many interpretations and terms to refer to the "social" aspect in Big Data. The most widespread terms so far are Social Big Data (SBD) and Big Social Data (BSD). Various definitions and approaches are presented and compared in the following, in order to outline the existing research directions.
Theoretical foundations of Big Social Data
Based on the literature overview we perceive the concept of BSD as a combination of four fields of science: social computing (including social media and social networks), Big Data science and data analytics as fields that enable and contribute to the existence of the data, and CSS as a field that primarily utilizes the data to gain insight and conduct research (see Fig.
2
).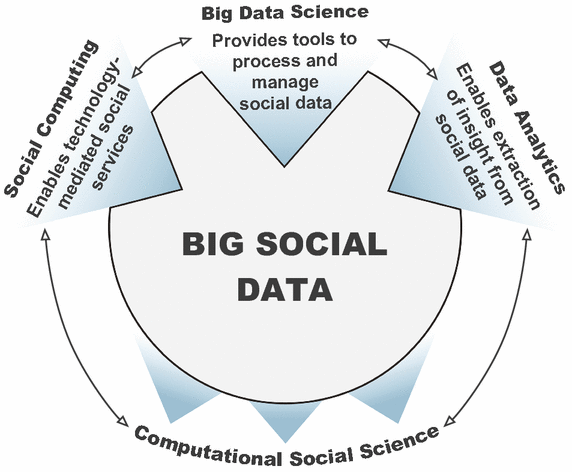 We emphasize that the concept should be understood in an interdisciplinary way in order to open new research avenues. The current and possible roles of each field of science in the context of BSD are discussed in the following.
Our synthesis and definition of Big Social Data
Drawing from our overview of the related literature and observation of contributing science fields we provide a meta-level definition of the synthesized BSD concept as follows:
Big Social Data is any high-volume, high-velocity, high-variety and/or highly semantic data that is generated from technology-mediated social interactions and actions in digital realm, and which can be collected and analyzed to model social interactions and behavior.
This definition approaches the concept from the synthesized perspective including the description of social data characteristics, its sources and origins as well as purpose of use:
Characteristics Shortly speaking, in this context, volume refers to the exponential growth of social data. Variety relates to various types and forms of social data sources: it might be structured, semi-structured or unstructured. Variety can also mean the difference of formats (for instance, text, image, video). Velocity refers to the fact that social data is generated and distributed with tremendous speed. One can simply count his/her activity in online services per hour to imagine the frequency, with which billions of people right at this moment create or share something online. These characteristics define the size of social data available for the analysis as well as real-time and dynamic nature of BSD. The volume, velocity and variety are traditional characteristics in any Big Data, while semantic is a more unique characteristic of BSD. It refers to the fact that all content manually created is highly symbolic with various often-subjective meanings, which require intelligent solutions to be analyzed. There have been studies on mining and analyzing such multimedia data [73–76], however we are still far from the degree of the intelligence, which may turn immense pools of user-generated content into meaningful insights.
Data sources and origins In context of BSD, we consider technology-mediated social interactions as origins of social data types. It refers to digital self-representation, technology-mediated communication and digital relationships data that may appear not only in social networks services but in variety of discussion forums, blogs, web and mobile chat applications, multi-player games as well as different web sites that are not for social purposes per se.
Purpose Analyzing and modeling social interactions and behavior means that researchers may use the data to describe, understand, and build models of digital interactions taking place between people and how people act (online) around these interactions (for example, profile building, self-expression and other activities that are not directly seen as interaction but, rather, necessary prerequisites for it). The knowledge, which is gained from analysis, may then be utilized in variety of applications, meaning that BSD practitioners are free to choose which domain or research question to address. For instance, researchers may aim to solve fundamental societal issues or just explore tweets for the sake of testing new semantic algorithms.
The definition is further explicated in the following subsection with the classification of data types that relate to technology-mediated social interactions.
Types of Big Social Data
We emphasize that a central element of the BSD concept is "digital human", who uses Information and Communications Technology (ICT) for digital social interactions. The rapid evolution of ICT has shifted the role of a user from a consumer to the active producer and mediator of information, thus allowing people to control, personalize and apply the digital realm according to their values, social needs and preferences [70]. We incorporate the term of "digital human" to underline the shift towards new sociality that lives in hybrid reality [77], where the dynamism and constant availability of technology-mediated communication blurs the boundaries between reality and virtuality. Thus, people do not distinct their activity in online and physical environments, because of "always-on" social networking. Similarly, Wooglar suggests the term of "virtual community" and states that it is just the matter of choosing words: "In this usage, 'virtual', like 'interactive', 'information', 'global', 'remote', 'distance', 'digital', 'electronic' (or 'e-'), 'cyber-', 'network', 'tele-', and so on, appears as an epithet applied to various existing activities and social institutions". [78].
Around digital human interactions, there are both machine-generated and human-generated data that potentially might turn into the social insight. However, in this paper we argue that exactly human-generated data makes BSD concept unique and distinguishes it from general field of Big Data. While machine-generated data could be analyzed through mere Big Data tools and applications, human-generated content requires more intelligent solutions to decode the semantics of people's beliefs, opinions and behavior. Undoubtedly, Big Data may show what and how is changing in social interactions, however it does not answer the question of why those changes and processes are happening. Therefore, we consider BSD is the solution to properly investigate the semantics of human-generated content. From our perspective, it may provide to practitioners of many research fields both facts and reasoning.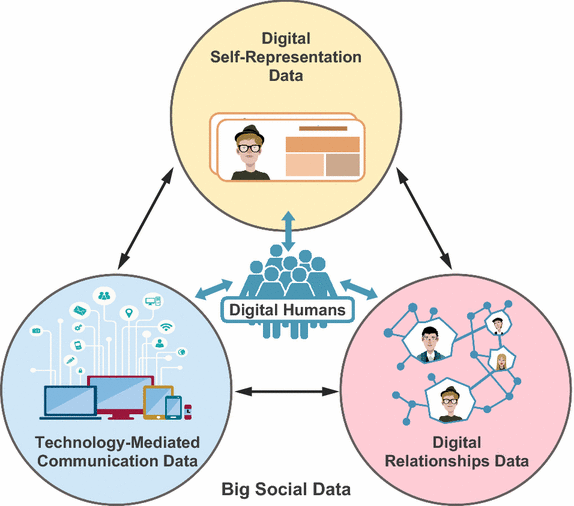 While discussing human-generated data we mean content that is produced through social technology-mediated interactions of people in social media platforms. This category may contain digital-self representation data, technology-mediated communication data and digital relationships data (see Fig.
3
). These three categories define the types of data that could be interpreted and utilized as social data in the current digital environment (see Table
2
). In other words, Table
2
serves as a simplified taxonomy of BSD; however, it is not meant as an extensive index of what data is BSD but, rather, as a list of currently existing BSD examples that could be available for research and analysis.
Table 2
Classification of Big Social Data types
Category

Definition

Types of data

Digital self-representation data

Data related to identity depiction and communicative body in digital environment

Profile data (i) Login data (name/nickname/e-mail address and password); (ii) Mandatory data (services and application required data, for example, full name, citizenship, birthday); (iii) Extended data (profile pictures, education, tags of interests)

Self-published content (e.g., personal documents, pictures, videos, interests): (i) Disclosed data (to the public); (ii) Entrusted data (content sharing within trusted digital community)

Data published by the community (e.g., pictures, narrations, videos, posts): Relates to content shared by other users, which contribute to the digital identity creation

Technology-mediated communication data

Data related to two-way communication, knowledge creation and distribution through technology

Private communication data instant 1-to-1 messaging and content sharing;

Public communication data 1-to-many messaging, commenting, information contribution and editing of existing entries;

Collaborative communication data many-to-many participatory content sharing, chats, video-conferences

Digital relationships data

Data that reveal digital social relationships patterns

Explicit data Friendship data–Followee/Follower data;

Implicit data Data, which is revealed through technology-mediated communication data (e.g., tweets could be analyzed to infer connections between people)
Digital self-representation
The first category to be discussed is digital self-representation. This is the initial step for "digital humans" to socialize and communicate themselves in the digital realm. These data types relate to numerous virtual profiles that have functions of identity depiction and communicative body [
49
]. In other words, the data is meant to reveal some information (a "face") for other users in the particular digital service. Albrechstlund proposes a concept of "sharing yourself", which is related to the way constructed identity is participating in social networks creating relations with others [
79
]. In digital environment people are limited in verbal and non-verbal impressions compensating it by means of text, pictures, videos and music that could be placed in the following data categories:
1.

Profile data It includes login data (usually a name/nickname/e-mail address with which other people identify the user); identity data (depends on the digital environment, i.e. for some services one should provide real first name and last name, mobile phone number, country, education, birthday); and personality data (e.g., profile pictures, tags of interest, slogan, personal signature in discussion forums) In many social media services, it is the personality data that the other users particularly focus on and analyze to assess the interestingness of the user.

2.

Self-published content It incorporates publicly disclosed or socially restricted data (to trusted users or specific communities), such as most status updates in social media, pictures, videos, and other content that people add to services to represent themselves.

3.

Data published by the community Self-representation could be complemented through person-related content shared by other users. This refers to collaboratively created pictures, narrations, videos, etc.
Technology-mediated communication data
Technology-mediated communication data refers to the data generated in two-way communication, collaborative knowledge creation and information distribution in the context of digital environment—the content and subjects of the communication. Technology mediates the constructed digital self-representation to contribute information, edit existing contributions, comment on entries and discuss related matters. From the fundamental perspective digital environments allow people to contribute to knowledge creation and distribution through various digital devices [80]. Digital environment facilitates physical communication channels resulting in private communication (i.e., one-to-one), public communication (one-to-many) and collaborative communication (many-to-many) data. Depending on the context, public and collaborative communication could also be private within the group of participants, i.e. in case it is a private channel of the organization.
Digital relationships data
Digital Relationships data describes the explicit connections and ties between users in the services. Analysis of this data can reveal social relationship patterns, social network structures and various other sociological and network level phenomena in the digital realm. Digital Representation category firstly contains explicit data, which refers to digital friendships and followership that a user has intentionally and explicitly defined. Technology-mediated social services provide the possibility to build virtual communities based on both physical and online activities (to create networks based on existing connections in physical world and/or create new networks with people from digital realm). There are two roles for users of such services—to be followee and follower. One could have followers or friends on various social platforms (Facebook, LinkedIn, Twitter, Instagram, and many others), and in turn could follow someone to maintain friendships, business relationships or track important content of another relevant user. An interesting factor to be researched is the motivation of people adding someone to the friend's lists. Obviously such lists incorporate friends and colleagues, but also there could be public figures, interesting strangers or people with weak ties [81–83]. There is also implicit data, which could be revealed through analysis of technology-mediated communication data. For instance, tweets can be analyzed to infer individual connections between people. And from these individual connections, we can build network representations of communities in system level. As another example, two users having multiple common contacts (e.g., friend-of-a-friend) can be predicted to become explicit contacts in the future. When a user has, for example, liked or otherwise interacted with a non-contact user's content or profile, there can be seen to be an implicit tie between the users [82]. However, such implicit data normally requires network analysis to be created, and there are few tools or methods to provide such data automatically.
To summarize, we consider this list of BSD types could be valuable for researchers to outline the scope of their interests and will guide them to achieve successful outcomes. Nevertheless, research community has to remember that the accessibility of such data is a crucial challenge of BSD. Lack of access to the data often held by various service providers hinders the utilization of and research opportunities related to this emerging concept. Thus, researches should search for ways of collaboration with social media platforms.
Future work
The holistic overview of related concepts, research fields as well as research communities provide ideas regarding methodological steps that should be taken to enable further research and utilization activities around BSD. This is a combination of three activities that should be primarily focused on in order to open new avenues for the utilization.
1.

Collecting data The initial step for all researchers who work with BSD is to collect needed datasets for analysis. This step brings up the ethical issues and challenges of data accessibility. Indeed, there are challenges in terms of accessing the data as it is often held by various service providers, which hinders the utilization of the data. Manovich notes this by stating 'only social media companies have access to really large social data' [38]. Fortunately, recently we have seen various movements and joint efforts for bringing together data that, in theory, is public but very challenging to collect in high volume enough for research purposes (for example, the OSoMe1 project to help analyzing Twitter data). One of the most troubling issues is related to ethics: majority of people are not aware about their data being collected and analyzed by different organizations (including government and social media companies). Moreover, the regulations on accessing and usage of such data are not clear and not completely unified. There are also challenges that may cause privacy violation: collecting more private data than allowed; accessing data without permissions; utilizing data for purposes, which are different from the initial purpose of collecting the data; misinterpreting the data; and changing the content. To make collecting phase feasible we need to fulfill the next step of our framework.

2.

Collaboration BSD is multidisciplinary area that will require practitioners to build a proper team for work. Our suggestion is to build collaboration with social media platforms or companies that have access to actually large data sets. For instance, the research outcomes from thousands of twits would be questionable in comparison with research under billions of human-generated content from multiple channels. Collaboration with people or companies with various expertize and advantages in terms of social data availability will potentially reduce challenges with collecting data for one's own study, extend the scale and scope of the work in a positive way as well as provide access to multidisciplinary expertise.

3.

Manipulating data We argue that for gaining meaningful insights from BSD, researchers should design virtual environments where they would be able to access multiple data types, to compare and control them. It may bring new opportunities for authentic and reliable research outcomes. In this regard we agree with Watts [68] that we need 'social supercollider', which will obtain diverse social data streams thus opening access to knowledge about people's behavior on the massive scale. BSD artificial environments also could give opportunity to run virtual experiments and validate results with members of related research community.
This paper was aimed to bring clarity on BSD topic in general for any application area. As for our intended future work, we aim to utilize BSD to foster serendipity and, thus, innovativeness in knowledge work organizations. Our objective is to obtain empirical evidence that analysis of BSD can help identify relevant new people to collaborate with.
Conclusion
The multidisciplinary and multi-dimensional nature of Big Social Data brings challenges to the development of a useful conceptualization and definition of the concept. Our literature overview shows that majority of related work on BSD is focused on the analysis of social data, giving less attention to describing what BSD actually is. This can lead to lack of consensus, inconsistency, and vague understanding of what such data could be used for. To bring clarity and sophisticated understanding of BSD we propose a synthesized conceptualization and definition of the concept and this growing field. We reviewed existing literature that demonstrates a variety of applications and approaches to study the phenomena around social data. Based on this we outlined the fields of science that determine the scope of BSD (social computing, Big Data science, data analytics and CSS). We assume the knowledge about the involvement of each field would provide researches with the understanding of the expertise that is demanded for conducting research in this field. Additionally, we proposed the classification of BSD types that, from our perspective, well cover the spectrum of data that BSD consists of. In summary, with this paper, we aim to make researchers more informed about what is BSD, on what data to focus as well as motivate them to elaborate better conceptualization, in order to reach clear desirable research outcomes.
Footnotes
1
Observatory on social media (OSoMe) project to study diffusion of information online and discriminate among mechanisms that drive the spread of memes on social media—http://truthy.indiana.edu/about/.
Declarations
Authors' contributions
EO performed the primary literature review and analysis for this work as well as designed graphics. Manuscript was drafted by EO, TO and JH. EO introduced this topic to other authors and coordinate the work process to complete the manuscript. EO, TO, JH and HK worked together to develop the article's framework and focus. All authors read and approved the final manuscript.
Acknowledgements
We thank all members of the COBWEB project.
Competing interests
The authors declare that they have no competing interests.
Funding
This work was supported by the Academy of Finland project 295893, 295894, 295895— "Enhancing Knowledge Work and Co-creation with Analysis of Weak Ties in Online Services (COBWEB)".
Open AccessThis article is distributed under the terms of the Creative Commons Attribution 4.0 International License (http://creativecommons.org/licenses/by/4.0/), which permits unrestricted use, distribution, and reproduction in any medium, provided you give appropriate credit to the original author(s) and the source, provide a link to the Creative Commons license, and indicate if changes were made.
Authors' Affiliations
(1)
Department of Pervasive Computing, Tampere University of Technology, Tampere, Finland
(2)
Department of Mathematics, Tampere University of Technology, Tampere, Finland
(3)
NOVI research group, Department of Information Management and Logistics, Tampere University of Technology, Tampere, Finland