Bayesian count regression analysis for determinants of antenatal care service visits among pregnant women in Amhara regional state, Ethiopia
Journal of Big Data
2018
5:7
Received: 4 December 2017
Accepted: 31 January 2018
Published: 24 February 2018
Abstract
Background
Complications of pregnancy and childbirth are a leading cause of maternal morbidities and mortalities in developing countries. World Health Organization (WHO) estimates that over 500,000 women and girls die each year from the complications. Despite proven interventions that could prevent death or disability during pregnancy and childbirth, maternal mortality remains a major burden in many developing countries, including Ethiopia. This study aimed to assess the status of antenatal care utilization and modeling Bayesian Count Regression model for the determinants of utilization of antenatal care services visits among pregnant women in Amhara regional state.
Methods
It was a community based analytical cross-sectional study, conducted in Amhara region among women in the reproductive age group (age 15–49). The analysis was based on data from women who had at least one birth during the 5 years preceding the survey. The source of data was the 2014 Ethiopia Demographic and Health Survey which was accessed from Central Statistical Agency. Bayesian analytic approach was applied to model the mixture data structure inherent in zero-inflated count data by using the zero-inflated Poisson model.
Results
About 37% (95% CI 0.32, 0.42) of the pregnant mothers were not received antenatal care services during their pregnancy and about 23% of them were visited at least four times. From Bayesian zero inflated Poisson regression it was found that rural pregnant women (OR = 1.13; HPD CI 1.12, 1.44), women who can read and write (OR = 0.54; HPD CI 0.40, 0.72), middle Wealth index (OR = 0.60; HPD CI 0.46, 0.78) and media exposures (OR = 0.72; HPD: 0.56, 0.92) were statistically associated with no ANC visits.
Conclusions
About three-fourth pregnant mothers were not receive adequate number of visits recommended by the World Health Organization. Mother's education, media exposure, residence and wealth index were significant predictors of ANC service utilization. This research suggests that to reduce the inadequate number of ANC visits in Amhara region, attention should be given to women with low educational status and rural women.
Keywords
Bayesian approachClassical approachANCAmhara regionMCMCPosterior distributionPrior density
Background
Antenatal care (ANC) for pregnant women by health professionals maintains women's health during pregnancy and improves pregnancy outcomes by identifying and managing pregnancy related complications [1–3]. ANC services offer pregnant women an entry point to the health care system, providing appropriate screening, intervention and treatment throughout pregnancy, and encouraging women to seek a skilled birth attendant for their delivery [4]. Women attending ANC visits receive sufficient evidence-based clinical interventions [5]. This is useful in optimizing maternal and fetal outcome through regular monitoring of pregnancy [6].
The World Health Organization (WHO) recommends all women with uncomplicated pregnancies to attend four ANC visits during the course of the pregnancy to prevent and identify pregnancy risks and treat conditions timely through providing appropriate information to the client. During their visit they should receive tetanus toxoid immunization, intermittent preventive treatment of malaria, deworming, iron and folic acid, and insecticide treated bednet [7].
Pregnant women can also be screened for signs associated with high probability of complications and subsequent specialized care can be arranged. The WHO estimates that over 500,000 women and girls die each year from the complications. These high morbidity and mortality rates make maternal health a huge public health problem in the developing countries. Developing countries shares 99% of the burden in which around 56% of these maternal deaths took place in Sub-Saharan Africa. According to the EDHS 2011, the maternal mortality ratio in Ethiopia was estimated to be 676/100,000 live births, which is much higher than many Sub-Sahara African countries [8–10].
Currently, 71% of women worldwide receive any ANC, in industrialized countries more than 95% of pregnant women have access to ANC. In sub-Saharan Africa, 69% of pregnant women have at least one ANC visit [11]. While different studies have looked at diverse risk factors for antenatal care (ANC) and delivery service utilization in the country, Ministry of health of Ethiopia in 2007 reported that about 52% Ethiopian women received one or more ANC visits, less than 17% received professionally assisted delivery care and 19% received postnatal care [12]. The major causes for poor health in developing countries are inadequate access and under-use of modern health care services. The number of antenatal care visits during the last pregnancy by mothers aged 15–49 years was analyzed. More than 55% of the mothers did not use antenatal care (ANC) services, while more than 22% of the women used antenatal care services less than four times. More than half of the women (52%) who had access to health services had at least four antenatal care visits. The zero-inflated negative binomial model was found to be more appropriate for analyzing the data [13].
According to the 2014 mini EDHS report 32 percent of women with a live birth in the five years before the survey were received four or more ANC visits which is a marked improvement from 19% reported in the 2011 EDHS [10, 14]. A study in Rwanda and slum residents of Addis Ababa explained that about 46–81.6% of women were received at least four ANC visits respectively [15, 16]. Only 43.1% of women in Amhara region received ANC from skilled provider [14].
Addressing this situation requires a substantial improvement in the coverage and quality of maternal health care services in the country. In Ethiopia although access to health care services is improving, the country has faced challenges in increasing health care utilization [17]. It is thus important to examine the extent to which women are making use of the services and answer why many women do not use recommended services.
Despite the fact that antenatal care seeking is essential, little is known about status and factors affecting level of ANC visit in Amhara region. Thus, detail understanding on the factors affecting in the number of ANC service utilization is crucial. EDHS 2011, Information coming from community-based studies related to the Health Extension Programme (HEP) in rural areas is still very limited due to different factors. That is why this study is aimed to statistically analyze the determinants of the barriers in antenatal care service visits among pregnant women in Amhara region. Furthermore, this study will provide valuable information about count data models.
Methodology
It was a community based analytical cross-sectional study. The data were collected from a woman in the reproductive age group (age 15–49) from all zones in Amhara region. The study subjects are women aged 15–49 years who gave at least one birth in the last 5 years preceding the survey. The data used for this study was taken from the 2014 EMDHS which is a nationally representative survey of women in the fertile age (15–49 years age) groups taken from the CSA. It is the fourth comprehensive survey and designed to provide estimates for the health and demographic variables of interest for the following domains: Amhara region as a whole, urban and rural area of the region. The objective of 2014 Ethiopia Mini Demographic and Health Survey was to collect population-based data on key demographic indicators to support the monitoring and evaluation needs for Phase IV of the health sector development program (HSDP).
Results
The descriptive statistics given in the Table
1
shows the number and percentage of ANC visits that the pregnant mothers in the sample have encountered in their 9 months of pregnancy period. From this study 136 (37.00%) of the pregnant mothers had not been received ANC during their period of pregnancy, where as 43 (11.7%) of them visited only once, 35 (9.5%) of them visited twice, 71 (19.50%) visited three times, 40 (10.90%) visited four times and etc.
Table 1
Number of mothers that experienced ANC visits in Amhara National Regional State, 2014
| No_ANC visits | Count | Percent | Cumulative percent |
| --- | --- | --- | --- |
| 0 | 136 | 37.0 | 37.00 |
| 1 | 43 | 11.7 | 48.60 |
| 2 | 35 | 9.5 | 58.20 |
| 3 | 71 | 19.5 | 77.40 |
| 4 | 40 | 10.9 | 88.30 |
| 5 | 18 | 4.9 | 93.20 |
| 6 | 14 | 3.8 | 97.00 |
| 7 | 7 | 1.9 | 98.90 |
| 8 | 2 | 0.5 | 99.50 |
| 9 | 1 | 0.3 | 99.70 |
| 10 | 1 | 0.3 | 100.00 |
This indicates an over dispersion of the response variable. Since the histogram is highly peaked at zero, we can state that the over dispersion is due to excess of zeroes (Fig.
1
). Due to a large number of zero outcomes, the histogram is highly picked at the very beginning (about the zero values). This leads to have a positively (or right) skewed distribution. This was an indication that the data could be fitted better by count data models which takes into account excess zeroes.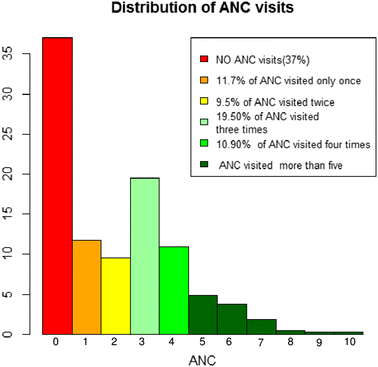 Discussion
In health service studies, Antenatal care service visits could be a relevant metric to quantify efficiency of maternal care utilization. This paper, which focused on an efficient statistical modeling for number of Antenatal care service visits, Bayesian zero-inflated poison modeling approach to estimate parameters of demographic, socio-economic, health and environmental related factors. This study has focused on assessing the status of ANC utilization and modeling Bayesian count regression model of the determinants of utilization of antenatal care service visits among pregnant women in Amhara regional state. The study showed that 63% of the pregnant women have been received at least one ANC during their periods of pregnancy. As compared to the 2011 data, there is a 22% increase in the percentage of women who have been received ANC [10]. This increment may be attributed to awareness creation, health promotion, and increase in the number of health institutions and health care providers in the rural areas. Studies conducted in Dembecha district and Debre Tabor town, Northern Ethiopia showed that 57–55.7% of pregnant women have been received at least one ANC respectively. This little difference may be due to the time difference and strength of data collection. As the World Health Organization recommended, in the absence of complications, every woman should have at least four ANC visits [33]. However, fewer than one-third (27%) of pregnant women had four or more visits during the length of their pregnancy. According to the 2011 EDHS report, only 19% of women were received four or more ANC visits [10]. Although this finding shows a low level of service utilization, there is remarkable improvement as compared to the 2011 national rate. This discrepancy may be due to fact that awareness of respondents is increased, an increase in the promotion of health, and increase in the number of health institutions and health care providers in the region. The time difference between the current study and the previous studies can be one attributable factor. The ZIP regression model has been developed and utilized to handle data of this type, and is traditionally estimated by using maximum likelihood. This paper introduces a Bayesian alternative to estimate the ZIP model, as we believe it provides several advantages when compared to maximum likelihood estimation for this model. For example, as interval estimates receive increasing emphasis in health science research, the commonsense interpretation of Bayesian intervals (i.e., credible intervals) provides a strong impetus to adopt a Bayesian perspective [25]. Perhaps more importantly in the case of the ZIP model, Bayesian analysis can provide the full joint distribution of the parameters of interest and can account for various sources of uncertainty in modeling zero-inflated count data, which is not easily achieved in classical maximum likelihood approaches [25]. Small samples along with parameters close to the boundary may result in extra uncertainty in parameters and failure of the asymptotic assumptions, which are critical in maximum likelihood estimation. These conditions may cast doubt on statistical inferences about model parameters for count data with excess zero values based on the variance of the estimator under maximum likelihood approaches [25]. Our simulation studies demonstrate that the Bayesian method performs better in the sense of yielding larger coverage probabilities and smaller bias than the classic maximum likelihood approach, especially in the case of small samples with either very high or very low incidence of excess zero outcomes. From the intervals and the table as well, it is evident that there is a noticeable amount of zero inflation in residence, mother's education, middle wealth index and media exposure because the interval of concentration of the posterior distributions do not include zero, where as for signs of pregnancy the posterior distribution of p is centered around zero and the interval contains zero, signifying the absence of zero inflation (Table 6). Finally, for the sake of completeness, Table 6 gives 0.95 credible intervals and HPD intervals calculated from the posteriors. It is seen that for the media, mothers' education and middle wealth index and residence that 0 is not in the intervals. This is consistent with the presence of zero inflation. For the Sign of pregnancy, 0 is in the interval. The interval is so wide much of it includes negative values. So, it is not surprising that zeroes inflation is not indicated by the test. In this study the use of antenatal care was found to be related to economic status; Mothers with middle economic level were more likely to attend ANC than poor women. This is also in line with other studies conducted in Southern Ethiopia [2]. In this study, it was found that Bayesian zero inflated poison regression were better fitted the data than NB and Poisson.
Conclusion
Bayesian inference and frequented (classical) statistics findings are difficult to compare, the reason that they are different techniques with different tools for decision making, standard deviation and confidence interval for one and credible interval for the other. However, findings from the Bayesian model is given preference because the technique is more robust and precise than the traditional statistics. In conclusion, the Bayesian ZIP model was better fitted the data which can be considered a mixture of two statistical processes, one always generating zero ANC visits and the other generating both variability in the zero and non-zero ANC visits than any other models and therefore it was selected as the best parsimonious model. The ANC service utilization rate in the rural Amhara region is lower than the national figures available to date. In addition, it is worth nothing that majority of the mothers who attend ANC did not receive an adequate number of visits recommended by the World Health Organization. Furthermore, Using Bayesian ZIP analysis mother's education, media exposure, residence and the wealth index were major predictors of ANC service utilization.
Abbreviations
WHO:

World Health Organization
ANC:

antenatal care services
OR:

odds ratio
MCMC:

Markov chain Monte Carlo
ZIP:

zero-inflated Poisson
MDGs:

millennium development goals
EMDHS:

Ethiopia Mini Demographic and Health Survey
EDHS:

Ethiopia Demographic and Health Survey
winBUGS:

win Bayesian using Gibbs sampling
CI:

confidence interval
HPD:

highest posterior density
CSA:

Central Statistical Agencies
NB:

negative binomial
ZINB:

zero inflated negative binomial
Declarations
Authors' contributions
MS made substantial contributions to the conception and design of the study, formulation the methodology, analyzed and interpreted the data, and was a major contributor in writing the manuscript. AM designed the study, collected the data, supervised and reviewed the final version submitted for publication. Both authors read and approved the final manuscript.
Acknowledgements
The authors wish to acknowledge Debre Markos University for funding this study. Our deepest gratitude goes to Central statistical Agency for providing the data.
Competing interests
The authors declare that they have no competing interests.
Availability of data and materials
The datasets used and/or analyzed during the current study available from the corresponding author on reasonable request.
Consent for publication
Authors prove consent of publication for this research.
Ethics approval and consent to participate
Not applicable.
Funding
This work was supported by Debre Markos University and No payment is due on publication of this article. The article processing charge has been waived by Springer Open).
Publisher's Note
Springer Nature remains neutral with regard to jurisdictional claims in published maps and institutional affiliations.
Open AccessThis article is distributed under the terms of the Creative Commons Attribution 4.0 International License (http://creativecommons.org/licenses/by/4.0/), which permits unrestricted use, distribution, and reproduction in any medium, provided you give appropriate credit to the original author(s) and the source, provide a link to the Creative Commons license, and indicate if changes were made.
Authors' Affiliations
(1)
Mathematical and Statistical Modeling, Debre Markos University, Debre Markos, Ethiopia
(2)
Public Health in Epidemiology and Biostatistics, Debre Markos University, Debre Markos, Ethiopia