A hybrid framework combining background subtraction and deep neural networks for rapid person detection
Journal of Big Data
2018
5:22
Received: 30 April 2018
Accepted: 26 June 2018
Published: 10 July 2018
Abstract
Currently, the number of surveillance cameras is rapidly increasing responding to security issues. But constructing an intelligent detection system is not easy because it needs high computing performance. This study aims to construct a real-world video surveillance system that can effectively detect moving person using limited resources. To this end, we propose a simple framework to detect and recognize moving objects using outdoor CCTV video footages by combining background subtraction and Convolutional Neural Networks (CNNs). A background subtraction algorithm is first applied to each video frame to find the regions of interest (ROIs). A CNN classification is then carried out to classify the obtained ROIs into one of the predefined classes. Our approach much reduces the computation complexity in comparison to other object detection algorithms. For the experiments, new datasets are constructed by filming alleys and playgrounds, places where crimes are likely to occur. Different image sizes and experimental settings are tested to construct the best classifier for detecting people. The best classification accuracy of 0.85 was obtained for a test set from the same camera with training set and 0.82 with different cameras.
Keywords
Convolutional Neural NetworkBackground subtractionObject detectionCCTV
Introduction
With the rapid increase in violent crimes, an effective surveillance system has become a necessity. Early detection of crime using video surveillance is important but the control center cannot keep track of extended regions owing to the lack of manpower. It is not practically possible to manually track all locations and events considering the number of CCTV cameras managed by one person. For example, in Korea, one CCTV operator manages more than 100 cameras on an average at the local government's control center [1]. At the end of 2016, the total number of cameras connected to the national CCTV control centers in Korea was about 174,400 while the number of operators was only 3600 [2]. Despite this shortage, real-time surveillance significantly helps in arresting criminals. In Korea, the number of criminals arrested with the usage of the real-time monitoring of CCTV cameras has increased by 12 times over the past 3 years [3]. Hence, automatic video analytics is essential for reducing the workload of operators. However, existing automatic event detection capabilities have limitations such as a high possibility of false positives.
A (semi-)automated surveillance system should have the capability of rapid recognition of moving objects, even before it can detect the dangerous behaviour of objects. The current methods of detecting moving objects are mostly based on the background subtraction so far because of their fast processing speed [4, 5]. However, thanks to the recent advances in object detection methods such as YOLO [6] and SSD [7], which work well in real-time, we may attempt to use these techniques for the the detection of moving objects.
Typically, real-world videos are difficult to deal with due to external factors such as noise, shadows, poor illumination, low resolution, etc. Most object detection techniques do not account for all these problems and the state-of-the-art methods usually use deep Convolutional Neural Networks (CNNs), which are computationally expensive [8]. While a detailed analysis based on CNNs requires powerful machines, a typical surveillance system has limitations in terms of computational power and memory. On the other hand, the number of CCTV cameras around the world is rapidly increasing. The top two cities with the largest surveillance camera networks are Beijing and London [9, 10]. In London, there are more than 500,000 cameras [11]. It means that there are on average 15,200 cameras to manage in a district in London. Because a commonly used server that offers video analytics covers about 24 channels, we need 630 servers to manage the cameras for a district. In these circumstances, it becomes essential to assess the trade-off between detection performance and computational cost. A suitable surveillance system should not only detect well suspicious objects properly; it should be able to do with limited resources.
Toward this end, we propose a simple framework to recognize moving objects. Our proposition aims at reducing both training and inference costs as well as manual annotation cost while retaining an acceptable detection performance, comparable to other object detection methods in the recent past. The framework consists of two steps that are sequentially applied to each video frame. In the first step, we find regions of interest (ROIs) in a video frame using simple background subtraction. In the second step, we use a CNN to classify the detected ROIs based on a set of predefined criteria. This simple combination operates well in real-time and delivers a detection performance comparable to other modern object detection techniques. Our framework also offers the benefit of reusing background subtraction. In fact, the use of change detection techniques such as background subtraction is indispensable in video surveillance applications to detect anomalies such as abandoned objects or abnormal movements in video streams [12]. This means that the real processing time dedicated only to object detection in our framework is the CNN inference time.
The organization of the paper is as follows. The we introduce the motivation of our research in the next section. "Related works" section presents the related works in four different aspects, video surveillance, background subtraction, object detection, and pedestrian detection. "Methods" section presents our framework consisting of two steps including a detailed description of the extracted images from first step. We also introduce the surveillance video data we filmed for the experiments. "Results" section reports the experimental result and the last section presents the conclusion and discussion.
Motivation
Current object detection techniques are based on deep learning and the latest algorithms such as have significantly enhanced the detection speed. However the training step still requires considerable computational resources and through a computational downgrade does reduce expenses; it also hampers the performance as compared to the original version. CNN-type models suffer from the over-fitting that becomes more problematic when the models are applied to CCTV data in which the quality, color, angle, noise, etc. much vary as different cameras are used. Therefore, for the video surveillance, it might be necessary to train a classifier for each camera type or even for each camera. In such a case, reducing cost in training as well as in manual annotation would be an important factor when constructing an object detection system.
A weakness of modern object detection methods is that they often miss detecting small objects. Figure
1
shows a result of a state-of-the-art object detection technique, YOLOv2(YOLO below) with a set of pre-trained weights. An image frame with a size of
\(1280\times 720\)
pixels extracted from a real-world CCTV camera is tested. In this example, the model can detect well the cars but not the people.
Figure
2
shows the people left undetected, classified into different groups. The individuals in (a) are relatively small and are hidden by a car. Persons in (b) are also small and not well separated. The size of the individuals in (c) is not small but they are not distinguishable from the dark background. As seen in this example, there are many such cases encountered in real-world CCTV footage. The objects to be identified are often very small and partially hidden. Dark objects at night are usually indistinguishable from the background.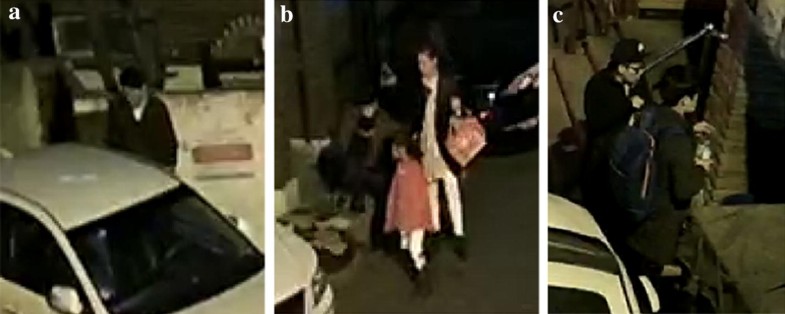 In a real-world video surveillance application, an appropriate trade-off between the processing speed and system cost is required. As surveillance systems only focus on suspicious objects, we do not need to detect all the objects in video streams, unlike usual object detection. The application would work more efficiently if the focus was just trained on moving objects. Traditional moving object detection methods in videosurveillance basically use background subtraction. Unlike in case of object detection, recognizing the object class is not important in this step. With a controllable environment such as an indoor scene, classifying objects may not be necessary. But in outdoor environments, moving object types vary and false detection increases because of noises. Therefore, to identify a meaningful event related to a moving object in noisy environment, recognizing well the class of the object appropriately is critical.
This study largely leverages two different technologies to devise an efficient object detection method: background subtraction and object recognition. The most time-consuming component of current object detection processes is the repeated testing of hundreds of region proposals by scanning the whole image. By using background subtraction to find ROIs, we can significantly reduce the number of proposals that are then used as the input for a simple CNN classifier for object recognition. In our framework, recognition accuracy would depend on subtraction quality to a large extent. However, as our primary objective is to verify the effectiveness of combining subtraction and CNN classification, we do not consider optimizing a background subtraction algorithm. Instead, showing that even a low quality of subtraction result leads to a rough-and-ready classifier, we will demonstrate the utility of our framework.
In our approach, a widely-used method, the Gaussian Mixture Model (GMM), is selected for the background subtraction. Then, a post-processing such as shadow removal and morphological transformation is conducted to extract the object area. In fact, the algorithm can be replaced by any other moving object detection algorithm because the next classification step is distinct from this first step.
Methods
Our object detection framework benefits from the background subtraction procedure. For each video frame, a GMM is first applied to extract moving object areas and then a CNN is used to classify these ROIs. Figure
3
summarizes the entire architecture of our approach. This section describes our approach in detail including the characteristics of the extracted ROIs. We also introduce the video surveillance data we filmed for the experiments.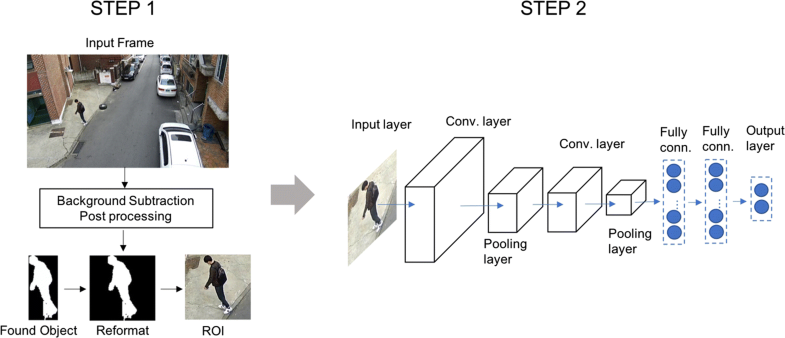 Results
In this section, we describe the experimental results of CNN classification. The experiments are conducted using two types of datasets as described in Table 2. The first type corresponds to dataset A, which is constructed from a group of five cameras, and is prepared to train and test a base model. The second type including three datasets from the other cameras is used to retest the trained base model. In the latter case, we check the availability of the trained model for any change int the data source. Through the experiments, we are trying to show the effectiveness of our approach even with the limited data we constructed. We expect that our simple and fast framework would offer some ideas for handling practical issues related to computing power and resources in video surveillance processing. Considering the diversity and difficulty of the extracted ROI images, we identify objects simply into two classes: 'person' and 'non-person'.
Empirical setting
After the background subtraction, we obtain 2380 images for dataset A (Table 2a). For the training, we use two different data compositions. First, we split data into training and test sets using all the images. Second, we compose training and test sets by excluding two sub-class images of persons that are difficult to identify automatically: 'person-bend' and 'person-etc.' The former is denominated as 'full-set', and the latter as 'part-set'. We train a model for each of the two sets separately. As a result, we get two models with the dataset A for a given image size. In the case of different camera test sets, there are 241, 210 and 458 images for roadset 1, roadset 2 and nightset respectively. These sets are used only for the evaluation.
The CNN code is written in python with TensorFlow. The experiments are carried out on a NVIDIA Tesla M40 24GB GPU. For an experiment, 80% of data are randomly selected as training set and the remainder is used as test set. In the case of different camera sets, all the images in a set are used for a validation. The detailed setting for the network is as follows: The mini-batch size is set to 50, with 30,000 iterations. The dropout rate of the fully connected layer is 10%. For the convolution layers, \(5\times 5\) sliding windows are used. Experiments are repeated by changing the input image size and repeated random subsampling is used for each input size.
Evaluation with images obtained from the same group of cameras
For a full-set with an image size \(32\times 32\) pixels, the precision for person class is 0.80 and that of a non-person is 0.83. We obtain 0.82 and 0.81 for person and non-person recalls and 0.81 for accuracy. When the image size increases to \(64\times 64\) pixels, the values of each measure value increase by 2–3% points except non-person precision and person recall. In these exceptional cases, the difference is statistically insignificant. With an image size \(128\times 128\) pixels, the accuracy increases to 0.84, which is 1% point higher than that obtained for an image size of \(64\times 64\) pixels. However, the person precision and non-person recall values do not change. The recall gap for a person class is comparatively high (4 points) but that of a non-person does not change. In summary, the performance improves with image size but there is comparatively little enhancement between \(64\times 64\) pixels and \(128\times 128\) pixels. Person precision and non-person recall mainly improve when the size becomes \(64\times 64\) pixels.
On the part-set, we get an improved result with a similar pattern. Because we eliminated difficult images from the full-set, the improvement was predictable. The results with an image size \(64\times 64\) pixels are clearly better than that of the image size \(32\times 32\) pixels. The improvement in person precision and non-person recall values is particularly high (5% points increase). When the image size becomes 128 × 128, we get the best accuracy, 0.85. However, there is little or no improvement for person precision and non-person recall values that had already attained highly improved values when the size was \(64\times 64\) pixels. The best precision of 0.87 is found with size \(64\times 64\) pixels. From these results, we can conclude that a complicated network with too high a resolution does not significantly affect the classification performance.
As we measure training speeds, we observe that it takes about 4 min for the size \(32\times 32\) pixels. When the input size increases, the training time rapidly increases, to 22 min for \(64\times 64\) and 110 min for \(128\times 128\) pixels. The inference time also increases proportionally to the training time. Therefore, although the larger input size significantly enhances the classification performance, we choose the size \(64\times 64\) as optimum, considering the processing speed. With a size of \(64\times 64\) pixels, our entire framework processes images at 15fps on a NVIDIA Tesla M40. With the same setting, the processing speed of Faster R-CNN is 2.7 fps and that of YOLO is the same as that obtained by our method.
Despite the superiority of our approach over the benchmark in terms of computational complexity, the inference time in the experiments was not different. We suppose that there was a time delay when transferring the background subtraction result to the CNN in the code. In the current version, the subtraction algorithm is written in C whereas the main CNN classifier is written in Python. We can further reduce the processing time by optimizing the code.
Evaluation with images from different cameras
In this subsection, we evaluate the previously trained models using three datasets constructed from different cameras. For each input size, two models trained with the full-set and part-set are tested. We call them the full-set model and part-set model, respectively.
Roadsets 1 and 2 are constructed from CCTV images images obtained from two street roads, a residential area road (Fig. 4f) and a main street intersection (Fig. 4g). Roadset 1 includes many hard cases such as parts of the human body, which were eliminated while constructing the part-set. Roadset 2 includes images of a small size because the camera covers a wide area. The nightset is constructed from an alley camera filmed at night (Fig. 4h). It includes many low-resolution images.
Table
6
presents the test results with these three datasets. The measured values for all datasets are found to be lower than the results of dataset A. Let us consider the results with a full-set model (Table
6
a) first. The best accuracies highlighted in italic for the full-set model are 0.72, 0.82, and 0.66 for roadset 1, roadset 2, and nightset, respectively. The performance with roadset 2 is comparable to that of data A, for which the best accuracy was 0.84.
Table 6
Evaluation with different test datasets
Test set

Input

Precision

Recall

Accuracy

Person

Non-pers.

Person

Non-pers.

(a) Full-set model

Roadset1

32 × 32

0.78

0.65

0.73

0.71

0.72

64 × 64

0.79

0.64

0.70

0.73

0.71

128 × 128

0.79

0.63

0.69

0.75

0.71

Roadset2

32 × 32

0.84

0.80

0.80

0.84

0.82

64 × 64

0.82

0.81

0.81

0.81

0.81

128 × 128

0.83

0.79

0.78

0.84

0.80

Nightset

32 × 32

0.76

0.50

0.72

0.55

0.66

64 × 64

0.77

0.50

0.72

0.56

0.66

128 × 128

0.76

0.48

0.68

0.58

0.65

(b) Part-set model

Roadset1

32 × 32

0.79

0.65

0.73

0.72

0.72

64 × 64

0.81

0.66

0.73

0.75

0.74

128 × 128

0.80

0.64

0.71

0.73

0.72

Roadset2

32 × 32

0.82

0.81

0.81

0.82

0.81

64 × 64

0.83

0.81

0.82

0.82

0.82

128 × 128

0.82

0.80

0.80

0.82

0.81

Nightset

32 × 32

0.76

0.51

0.74

0.54

0.67

64 × 64

0.78

0.52

0.73

0.58

0.68

128 × 128

0.76

0.49

0.71

0.55

0.65
In roadset 1, some difficult images such as body parts and dark images due to shadows might have a negative influence on performance. Moreover, new types of backgrounds could disturb the classification. However, an accuracy of 0.72 for the full-set is not bad considering that the test images are from a different camera with the training set. Person precision (0.79) is higher than the other measures whereas non-person precision (0.65) is lower. It means that the pre-trained model can predict a person appropriately but is not suitable for accurately classifying unusual person images. An interesting aspect is that high resolution does not guarantee better performance. On the contrary, the best accuracy is obtained with size \(32\times 32\) pixels.
In the case of roadset 2, the reason for the good performance might be the characteristics of the extracted ROIs from the video frames. As the video was taken from a larger distance compared to the others, fewer small movements, which are usually noises, were captured when processing background subtraction. Therefore, the extracted ROIs are mostly persons, cars, traffic signals, or reflected roads. There are not many complicated backgrounds, but there are many low-resolution objects. With the full-set model, the best accuracy (0.82) is observed with \(32\times 32\) pixels, as in roadset 1. However, the difference among the measured values is not much, unlike roadset 2. The main reason is probably that there are not many noisy backgrounds in the test images. From these results, we can infer that high-resolution models may degrade classification performance when the test images are significantly different from the training data.
With nightset, the performance is clearly poorer than the other sets. The best accuracy, person precision, and non-person precision are 0.66, 0.77, and 0.50 respectively. However, we observe similar patterns as the other sets. First, person precision is comparatively higher while non-person precision is comparatively lower as in roadset 1. The classifier could appropriately detect clear person images, but dark and unclear person images have been ignored. Second, the models trained with low-resolution images work better. However, there is not much difference between the results with different sizes.
Now, let us briefly introduce the results with a part-set model. Interestingly, they show quite a different pattern from the full-set model. On all three test sets, the model trained with the \(64\times 64\) pixels size images outperforms the others. The performance gaps are significant, but are higher than those observed in full-set models. Moreover, the part-set model's overall performance is better than the full-set model. We suppose the reason is the simplicity of the training data of the part-set. Because the part-set did not include difficult images such as bent body or a small part of the body, the classifier was able to focus on the general pattern of a person. Therefore, when test images are obtained from a different data pool, a simple part-set model can better classify them than a full-set model, even when the test set includes difficult images like roadset 1. From this observation, we can get some guidelines for constructing a training set. Instead of including all cases of images, filtering out too difficult cases could rather enhance the classification performance. Another conclusion is that the proper size of input images for classification in our framework is \(64\times 64\) pixels. The size has been chosen by considering the trade-off between computational time and classification performance. Although the size was determined from the datasets we used, it could be generalized because typical real-world cameras compositions are similar to the cameras we used for our experiments.
Conclusions and discussion
We proposed a simple framework to detect objects using outdoor CCTV video footage by combining background subtraction and CNN classification method. This study was initiated as the first phase of a roadmap for constructing an effective video surveillance system to battle crime. Therefore, it was necessary to devise a system that was fast as well as one that optimizes resource utilization. Because background subtraction is usually included as an essential feature in video surveillance applications, we can reuse the results for object detection in our framework. And for the practical experiments, we constructed datasets from various real-world CCTV cameras.
We found that the test accuracy was 0.85 when we used images from the same data pool with training data. This was comparable to the recent pedestrian detection algorithms' performance. Considering that our dataset contains much more difficult cases than usual pedestrian detection datasets, the result demonstrates a major success. For the other test sets constructed from three different cameras, the accuracies were found to be 0.74, 0.82, and 0.68 respectively. These results are encouraging because the detection accuracy usually decreases significantly when the target camera changes in real-world applications. A relatively high recall value of a person class when testing nightset data is also a positive sign because person detection is most important for video surveillance.
Our approach offers significant advantages in terms of processing, training, and manual annotation speed. The computational complexity of our CNN classifier was much lower than a state-of-the-art object detection method. Our model has 209 K parameters to be updated that are only 0.3% of the YOLO parameters. The processing speed of our entire framework on a GPU was 15 fps, which was equivalent to YOLO and 5.6 times faster than Faster R-CNN when testing the same image frames. Although the latter two models tested here can detect multiple classes, our primary objective is to identify moving objects only, especially people. Meanwhile, training speed is also important in practice because we often need to train a model fit for new environments instead of using a pre-trained one. Thanks to the simple CNN structure of our approach, the training speed is much faster than the others. In general, it takes anywhere from several hours to tens of hours to train a model on a GPU for both YOLO and Faster R-CNN. The manual annotation speed of our system is incomparable because we do not need to specify the location of objects for training. We only need to label the extracted regions from background subtraction as one of the predefined classes. The low complexity is an important merit when introducing an automatic detection system into a surveillance control center. We expect that our light detection system would work well on the existing servers. And with the system, an operator would more efficiently monitor the cameras by verifying only the person movement detected by a machine.
Another merit is the ability to detect small objects. It is useful in crime detection because suspicious objects are often seen from a distance. With outdoor surveillance cameras, the recorded objects of interest can be very small or blurred as criminals naturally prefer a CCTV blind spot. Our method first detects moving objects from a video frame and then classifies them. Therefore, any moving small objects can be caught in the first step. Considering that the limitation of other modern algorithms such as YOLO is in dealing with small objects, this characteristic would be a major advantage in video surveillance.
There are some data issues that can reduce detection performance. First, lack of training data might disturb the training procedure. A training set of 1900 examples is not small for binary classification but not enough considering that the images include various patterns. Second, same object images can cause over-fitting. After background subtraction, the case of capturing the same person multiple times occurred frequently, especially in the case of the playground video. Although we reduced these instances by taking only 25% of person images, there was still a risk of performance degradation. Third, background images are much included in training data. Because we mainly took the videos of people walking in the target areas, other moving objects were not much detected by background subtraction. On the other hand, in non-person class, background images such as glittering ground or reflecting objects have been captured very often. This made training difficult because these images usually did not have particular patterns.
Despite these limitations, we have the potential for enhancing performance. Currently, we use object tracking only to take the objects, which are continuously caught during background subtraction. If we efficiently use the tracking result for classification, the accuracy would increase. For example, instead of labeling each of the input images, we can label each tracked object by aggregating the classification result of the images corresponding to the object. Replacement of the background subtraction algorithm is also possible. GMM is a widely used method, but recently proposed advanced algorithms are expected to decrease noise detection. Finally, by optimizing the dataset, we can further enhance the performance. As mentioned above, there are some drawbacks related to training data. In future studies, we will re-construct the training dataset by adding video frames recorded from other cameras from various locations. Moreover, other open datasets can be used to expand the training data range.
Declarations
Authors' contributions
All authors equally contributed to the main idea of this paper and the construction of datasets. CK is in charge of a project that funds this work. YMK initially wrote the paper and conducted experiments including code implementation. JL and TH contributed to the related works especially. All authors read and approved the final manuscript.
Authors' information
Chulyeon Kim is a research assistant professor at Hanyang University, South Korea since Jan. 2014. The main research interest is to develop practical surveillance systems based on intelligent video analytics and IoTs. He received Ph.D. in industrial engineering from Hanyang University by studying an efficient approximation algorithm to solve large scale combinatorial optimization problems. He also worked as a business consultant and software engineer to redesign and implement processes for manufacturing Innovations from 2001 to 2013.
Jiyoung Lee is a Ph.D. student at Hanyang University, South Korea (M.S.-Ph.D. integrated program). She received her B.S. in industrial engineering from Hanyang University at Feb. 2014. Her research interest is in mathematical optimization, data mining, machine learning, and management of technology.
Taekjin Han is a Ph.D. student at Hanyang University, South Korea (Major is Management of Technology) He received his B.S. in Mechanical engineering from Hanyang University at Feb. 2012. He received his M.S. in Mechanical engineering from Korea Advanced Institute of Science and Technology at Feb. 2014. His research interest is in innovation system, catch-up cycle in industry, machine learning, and management of technology.
Young-Min Kim is an assistant professor at Hanyang University, South Korea since Sep. 2016. Her research background is in machine learning, probabilistic models and unsupervised learning. She received her B.S. and M.S. in industrial engineering from Hanyang University and earned her second M.S. and Ph.D. in computer science from University Paris 6, France. She completed two post-doctoral fellowships at University of Avignon and at University of Lyon 2. She was a senior researcher at Korea Institute of Science and Technology Information (KISTI) from Feb. 2014 to Aug. 2016.
Acknowledgements
Not applicable.
Competing interests
The authors declare that they have no competing interests.
Availability of data and materials
The datasets will be available online when this work is published.
Funding
This work is partially supported by two projects, Classification of The Artists using Deep Neural Networks, funded by Hanyang University (201600000002255) and Smart Multimodal Environment of AI Chatbot Robots for Digital Healthcare (P0000536), funded by the Ministry of Trade, Industry and Energy (MOTIE).
Publisher's Note
Springer Nature remains neutral with regard to jurisdictional claims in published maps and institutional affiliations.
Open AccessThis article is distributed under the terms of the Creative Commons Attribution 4.0 International License (http://creativecommons.org/licenses/by/4.0/), which permits unrestricted use, distribution, and reproduction in any medium, provided you give appropriate credit to the original author(s) and the source, provide a link to the Creative Commons license, and indicate if changes were made.
Authors' Affiliations
(1)
Graduate School of Technology & Innovation Management, Hanyang University, Seoul, Republic of Korea
(2)
Department of Industrial Engineering, Hanyang University, Seoul, Republic of Korea