Big data privacy: a technological perspective and review
Journal of Big Data
2016
3:25
Received: 27 July 2016
Accepted: 5 November 2016
Published: 26 November 2016
Abstract
Big data is a term used for very large data sets that have more varied and complex structure. These characteristics usually correlate with additional difficulties in storing, analyzing and applying further procedures or extracting results. Big data analytics is the term used to describe the process of researching massive amounts of complex data in order to reveal hidden patterns or identify secret correlations. However, there is an obvious contradiction between the security and privacy of big data and the widespread use of big data. This paper focuses on privacy and security concerns in big data, differentiates between privacy and security and privacy requirements in big data. This paper covers uses of privacy by taking existing methods such as HybrEx, k-anonymity, T-closeness and L-diversity and its implementation in business. There have been a number of privacy-preserving mechanisms developed for privacy protection at different stages (for example, data generation, data storage, and data processing) of a big data life cycle. The goal of this paper is to provide a major review of the privacy preservation mechanisms in big data and present the challenges for existing mechanisms. This paper also presents recent techniques of privacy preserving in big data like hiding a needle in a haystack, identity based anonymization, differential privacy, privacy-preserving big data publishing and fast anonymization of big data streams. This paper refer privacy and security aspects healthcare in big data. Comparative study between various recent techniques of big data privacy is also done as well.
Keywords
Big dataPrivacy and securityPrivacy preserving: k-anonymity: T-closeness, L-diversityHybrExPPDPFADS
Background
Big data [
1
,
2
] specifically refers to data sets that are so large or complex that traditional data processing applications are not sufficient. It's the large volume of data—both structured and unstructured—that inundates a business on a day-to-day basis. Due to recent technological development, the amount of data generated by internet, social networking sites, sensor networks, healthcare applications, and many other companies, is drastically increasing day by day. All the enormous measure of data produced from various sources in multiple formats with very high speed [
3
] is referred as big data. The term big data [
4
,
5
] is defined as "a new generation of technologies and architectures, designed to economically separate value from very large volumes of a wide variety of data, by enabling high-velocity capture, discovery and analysis". On the premise of this definition, the properties of big data are reflected by 3V's, which are, volume, velocity and variety. Later studies pointed out that the definition of 3Vs is insufficient to explain the big data we face now. Thus, veracity, validity, value, variability, venue, vocabulary, and vagueness were added to make some complement explanation of big data [
6
]. A common theme of big data is that the data are diverse, i.e., they may contain text, audio, image, or video etc. This differing qualities of data is signified by variety. In order to ensure big data privacy, various mechanisms have been developed in recent years. These mechanisms can be grouped based on the stages of big data life cycle [
7
] Fig.
1
, i.e., data generation, storage, and processing. In data generation phase, for the protection of privacy, access restriction as well as falsifying data techniques are used. The approaches to privacy protection in data storage phase are chiefly based on encryption procedures. Encryption based techniques can be further divided into Identity Based Encryption (IBE), Attribute Based Encryption (ABE) and storage path encryption. In addition, to protect the sensitive information, hybrid clouds are utilized where sensitive data are stored in private cloud. The data processing phase incorporates Privacy Preserving Data Publishing (PPDP) and knowledge extraction from the data. In PPDP, anonymization techniques such as generalization and suppression are utilized to protect the privacy of data. These mechanisms can be further divided into clustering, classification and association rule mining based techniques. While clustering and classification split the input data into various groups, association rule mining based techniques find the useful relationships and trends in the input data [
8
]. To handle diverse measurements of big data in terms of volume, velocity, and variety, there is need to design efficient and effective frameworks to process expansive measure of data arriving at very high speed from various sources. Big data needs to experience multiple phases during its life cycle.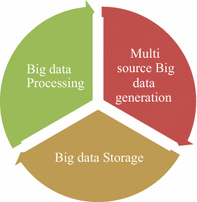 As of 2012, 2.5 quintillion bytes of data are created daily. The volumes of data are vast, the generation speed of data is fast and the data/information space is global [9]. Lightweight incremental algorithms should be considered that are capable of achieving robustness, high accuracy and minimum pre-processing latency. Like, in case of mining, lightweight feature selection method by using Swarm Search and Accelerated PSO can be used in place of the traditional classification methods [10]. Further ahead, Internet of Things (IoT) would lead to connection of all of the things that people care about in the world due to which much more data would be produced than nowadays [11]. Indeed, IoT is one of the major driving forces for big data analytics [9].
In today's digital world, where lots of information is stored in big data's, the analysis of the databases can provide the opportunities to solve big problems of society like healthcare and others. Smart energy big data analytics is also a very complex and challenging topic that share many common issues with the generic big data analytics. Smart energy big data involve extensively with physical processes where data intelligence can have a huge impact to the safe operation of the systems in real-time [12]. This can also be useful for marketing and other commercial companies to grow their business. As the database contains the personal information, it is vulnerable to provide the direct access to researchers and analysts. Since in this case, the privacy of individuals is leaked, it can cause threat and it is also illegal. The paper is based on research not ranging to a specific timeline. As the references suggest, research papers range from as old as 1998 to papers published in 2016. Also, the number of papers that were retrieved from the keyword-based search can be verified from the presence of references based on the keywords. "Privacy and security concerns" section discusses of privacy and security concerns in big data and "Privacy requirements in big data" section covers the Privacy requirement in big data. "Big data privacy in data generation phase", "Big data privacy in data storage phase" and "Big data privacy preserving in data processing" sections discusses about big data privacy in data generation, data storage, and data processing Phase. "Privacy Preserving Methods in Big Data" section covers the privacy preserving techniques using big data. "Recent Techniques of Privacy Preserving in Big Data" section presents some recent techniques of big data privacy and comparative study between these techniques.
Privacy and security concerns in big data
Privacy preserving methods in big data
Few traditional methods for privacy preserving in big data is described in brief here. These methods being used traditionally provide privacy to a certain amount but their demerits led to the advent of newer methods.
Recent techniques of privacy preserving in big data
Conclusion and future work
Big data [2, 68] is analysed for bits of knowledge that leads to better decisions and strategic moves for overpowering businesses. Yet only a small percentage of data is actually analysed. In this paper, we have investigated the privacy challenges in big data by first identifying big data privacy requirements and then discussing whether existing privacy-preserving techniques are sufficient for big data processing. Privacy challenges in each phase of big data life cycle [7] are presented along with the advantages and disadvantages of existing privacy-preserving technologies in the context of big data applications. This paper also presents traditional as well as recent techniques of privacy preserving in big data. Hiding a needle in a haystack [46] is one such example in which privacy preserving is used by association rule mining. Concepts of identity based anonymization [41] and differential privacy [40] and comparative study between various recent techniques of big data privacy are also discussed. It presents scalable anonymization methods [69] within the MapReduce framework. It can be easily scaled up by increasing the number of mappers and reducers. As our future direction, perspectives are needed to achieve effective solutions to the scalability problem [70] of privacy and security in the era of big data and especially to the problem of reconciling security and privacy models by exploiting the map reduce framework. In terms of healthcare services [59, 64–67] as well, more efficient privacy techniques need to be developed. Differential privacy is one such sphere which has got much of hidden potential to be utilized further. Also with the rapid development of IoT, there are lots of challenges when IoT and big data come; the quantity of data is big but the quality is low and the data are various from different data sources inherently possessing a great many different types and representation forms, and the data is heterogeneous, as-structured, semi structured, and even entirely unstructured [71]. This poses new privacy challenges and open research issues. So, different methods of privacy preserving mining may be studied and implemented in future. As such, there exists a huge scope for further research in privacy preserving methods in big data.
Declarations
Authors' contributions
PJ performed the primary literature review and analysis for this manuscript work. MG worked with PJ to develop the article framework and focus, and MG also drafted the manuscript. NK introduced this topic to PJ. MG and NK revised the manuscript for important intellectual content and have given final approval of the version to be published. All authors read and approved the final manuscript.
Competing interests
The authors declare that they have no competing interests.
Open AccessThis article is distributed under the terms of the Creative Commons Attribution 4.0 International License (http://creativecommons.org/licenses/by/4.0/), which permits unrestricted use, distribution, and reproduction in any medium, provided you give appropriate credit to the original author(s) and the source, provide a link to the Creative Commons license, and indicate if changes were made.
Authors' Affiliations
(1)
Computer Science Department, MANIT, Bhopal, India