A survey of open source tools for machine learning with big data in the Hadoop ecosystem
Journal of Big Data
2015
2:24
Received: 9 June 2015
Accepted: 20 October 2015
Published: 5 November 2015
Abstract
With an ever-increasing amount of options, the task of selecting machine learning tools for big data can be difficult. The available tools have advantages and drawbacks, and many have overlapping uses. The world's data is growing rapidly, and traditional tools for machine learning are becoming insufficient as we move towards distributed and real-time processing. This paper is intended to aid the researcher or professional who understands machine learning but is inexperienced with big data. In order to evaluate tools, one should have a thorough understanding of what to look for. To that end, this paper provides a list of criteria for making selections along with an analysis of the advantages and drawbacks of each. We do this by starting from the beginning, and looking at what exactly the term "big data" means. From there, we go on to the Hadoop ecosystem for a look at many of the projects that are part of a typical machine learning architecture and an understanding of how everything might fit together. We discuss the advantages and disadvantages of three different processing paradigms along with a comparison of engines that implement them, including MapReduce, Spark, Flink, Storm, and H2O. We then look at machine learning libraries and frameworks including Mahout, MLlib, SAMOA, and evaluate them based on criteria such as scalability, ease of use, and extensibility. There is no single toolkit that truly embodies a one-size-fits-all solution, so this paper aims to help make decisions smoother by providing as much information as possible and quantifying what the tradeoffs will be. Additionally, throughout this paper, we review recent research in the field using these tools and talk about possible future directions for toolkit-based learning.
Keywords
Machine learningBig dataHadoopMahoutMLlibSAMOAH2OSparkFlinkStorm
Background
As the price of data storage has gone down and high performance computers have become more widely accessible, we have seen an expansion of machine learning (ML) into a host of industries including finance, law enforcement, entertainment, commerce, and healthcare. As theoretical research is leveraged into practical tasks, machine learning tools are increasingly seen as not just useful, but integral to many business operations.
The goal of machine learning is to enable a system to learn from the past or present and use that knowledge to make predictions or decisions regarding unknown future events. In the most general terms, the workflow for a supervised machine learning task consists of three phases: build the model, evaluate and tune the model, and then put the model into production. An example of this workflow is in Fig.
1
.

At the heart of machine learning is the data that powers the models, and the new era of Big Data is catapulting machine learning to the forefront of research and industry applications. The meaning of the term "big data" is still the subject of some disagreement, but it generally refers to data that is too big or too complex to process on a single machine. We live in an age where data is growing orders of magnitude faster than ever before. According to International Data Corporation's annual Digital Universe study [1], the amount of data on our planet is set to reach 44 zettabytes (4.4 × 1022 bytes) by 2020 which would be ten times larger than it was in 2013. While no single entity is working with data at this magnitude, many industries are still generating data too large to be processed efficiently using traditional techniques. Ancestry.com, for example, stores billions of records totaling about 10 petabytes of data [2]. With such a growth rate in data production, the challenge faced by the machine learning community is how to best efficiently process and learn from big data. Popular machine learning toolkits such as R [3] or Weka [4] were not built for these kinds of workloads. Although Weka has distributed implementations of some algorithms available, it is not on the same level as tools that were initially designed and built for terabyte-scale. Hadoop [5], a popular framework for working with big data, helps to solve this scalability problem by offering distributed storage and processing solutions. While Hadoop is just a framework for processing data, it provides a very extensible platform that allows for many machine learning projects and applications; the focus of this paper is to present those tools.
The proliferation of big data has forced us to rethink not just data processing frameworks, but implementations of machine learning algorithms as well. Choosing the appropriate tools for a particular task or environment can be daunting for two reasons. First, the increasing complexity of machine learning project requirements as well as of the data itself may require different types of solutions. Second, often developers will find the selection of tools available to be unsatisfactory, but instead of contributing to existing open source projects, they begin one of their own. This has led to a great deal of fragmentation among existing big data platforms. Both of these issues can contribute to the difficulty of building a learning environment, as many options have overlapping use cases, but diverge in important areas. Because there is no single tool or framework that covers all or even the majority of common tasks, one must consider the trade-offs that exist between usability, performance, and algorithm selection when examining different solutions. There is a lack of comprehensive research on many of them, despite being widely employed on an enterprise level and there is no current industry standard.
The goal of this paper is to facilitate these decisions by providing a comprehensive review of the current state-of-the-art in open source scalable tools for machine learning. Recommendations are offered for criteria with which to evaluate the various options, and comparisons are provided between various open source data processing engines as well as ML libraries and frameworks. This paper presumes that the reader has a basic knowledge of machine learning concepts and workflows. It is intended for people who have experience with machine learning and want information on the different tools available for learning from big data. The paper will be useful to anyone interested in big data and machine learning, whether a researcher, engineer, scientist, or software product manager.
The remainder of this paper will be organized as follows: The section titled "Understanding big data" provides background on the problems that may arise when working with big data, and the "Hadoop ecosystem" section serves as an explanation and overview of the Hadoop ecosystem with a focus on tools that can help solve big data problems. The "Data processing engines" section examines different data processing paradigms and outlines criteria for evaluation. "Machine learning toolkits" discusses criteria for evaluation of machine learning tools and libraries, and "Evaluation of machine learning tools" provides an in-depth analysis of specific frameworks that can be used with the processing platforms. The "Suggestions for future work" section contains a discussion of key elements missing among the major toolkits and the final section presents conclusions from this survey.
Understanding big data
The term "big data" has become a buzzword and as such, it is often overused and misunderstood. While the frameworks we discuss in this paper are able to effectively process data of varying sizes and complexities, they were designed with very large data in mind and may not be the best choice for certain smaller projects. For this reason, the first step in choosing between big data frameworks is to determine if they are needed. In order to do this, it is important to have an understanding of what constitutes big data. This section provides definitions of big data and discusses the challenges associated with it.
There is no universally agreed-upon definition of big data, but the more widely accepted explanations tend to describe it in terms of the challenges it presents. This is sometimes referred to as the "big data problem." In 2001, Laney [
6
] described three-dimensions of data management challenges. This characterization, which addresses volume, velocity, and variety, is frequently documented in scientific literature. These three dimensions (commonly referred to as the 3 V's) can be understood as follows:
Volume is the most obvious of the three, referring to the size of the data. The massive volumes of data that we are currently dealing with has required scientists to rethink storage and processing paradigms in order to develop the tools needed to properly analyze it.

Velocity addresses the speed at which data can be received as well as analyzed. In the "Data processing engines" section, we discuss the differences between batch processing, which works on historical data, and stream processing, which analyzes the data in real-time as it is generated. This also refers to the rate of change of data, which is especially relevant in the area of stream processing.

Variety refers to the issue of disparate and incompatible data formats. Data can come in from many different sources and take on many different forms, and just preparing it for analysis takes a significant amount of time and effort.
In the years since Laney's paper was published, numerous people have proposed additions to this list and many refer to four or five V's, adding in Value or Veracity [7]. However, we are skeptical that these additions add to an overall understanding of big data, so we focus our discussion here to the original three.
In 1997, Cox and Ellsworth [
8
] were among the first authors in scientific literature to discuss big data in the context of modern computing. Their work focused on data visualization, but their observations about the big data problem can easily be extrapolated to general data analytics and machine learning. The big data problem, according to them, consists of two distinct issues:
Big data collections are aggregates of multiple datasets that are individually manageable, but as a group are too large to fit on disk. The datasets in these collections typically come from different sources, are in disparate formats, and are stored in separate physical sites and in different types of repositories.

Big data objects are individual datasets that by themselves are too large to be processed by standard algorithms on available hardware. Unlike collections, they typically come from a single source.
Today, the problem of big data collections is often solved through distributed storage systems, which are designed to carefully control access and management in a fault-tolerant manner. One solution for the problem of big data objects in machine learning is through parallelization of algorithms. This is typically accomplished in one of two ways [9]: data parallelism, in which the data is divided into more manageable pieces and each subset is computed simultaneously, or task parallelism, in which the algorithm is divided into steps that can be performed concurrently.
It is not uncommon to encounter big collections of big objects as data grows and becomes more widely available. This, coupled with unprecedented access to computing power through more affordable high performance machines as well as cloud services, is opening up many new opportunities for machine learning research. Many of these new directions utilize increasingly complex workflows which require systems built using a combination of state-of-the art tools and techniques. One option for such a system is to use projects from the Hadoop Ecosystem. The remainder of this paper provides detailed information about these projects and discusses how they can be utilized together to build an architecture capable of efficiently learning from data of this magnitude.
Hadoop ecosystem
Many people consider the terms
Hadoop
and
MapReduce
to be interchangeable, but this is not entirely accurate. Hadoop was initially introduced in 2007 as an open source implementation of the MapReduce processing engine linked with a distributed file system [
10
], but it has since evolved into a vast web of projects related to every step of a big data workflow, including data collection, storage, processing, and much more. The amount of projects that have been developed to either complement or replace these original elements has made the current definition of Hadoop unclear. For this reason, we often hear reference to the
Hadoop Ecosystem
instead, which encompasses these related projects and products. To fully understand Hadoop, one must look at both the project itself and the ecosystem that surrounds it. The Hadoop project itself currently consists of four modules [
10
]:
Hadoop distributed file system (HDFS) A file system designed to store large amounts of data across multiple nodes of commodity hardware. HDFS has a master–slave architecture made up of data nodes which each store blocks of the data, retrieve data on demand, and report back to the name node with inventory. The name node keeps records of this inventory (references to file locations and metadata) and directs traffic to the data nodes upon client requests. This system has built-in fault tolerance, typically keeping three or more copies of each data block in case of disk failure. Additionally, there are controls in case of name node failure as well, in which a system will either have a secondary name node, or will write backups of metadata to multiple file systems.

MapReduce Data processing engine. A MapReduce job consists of two parts, a map phase, which takes raw data and organizes it into key/value pairs, and a reduce phase which processes data in parallel. A detailed discussion of this processing approach can be found in the following section.

YARN ("Yet Another Resource Negotiator") [11] Prior the addition of YARN to the Hadoop project in version 2.0, Hadoop and MapReduce were tightly coupled, with MapReduce responsible for both cluster resource management and data processing. YARN has now taken over the resource management duties, allowing a separation between that infrastructure and the programming model. With YARN, if an application wants to run, its client has to request the launch of an application manager process from the resource manager, which then finds a node manager. The node manager then launches a container which executes the application process. For any readers who are familiar with previous versions of Hadoop, the jobtracker responsibilities from MapReduce are now YARN, split between the resource manager, application master, and timeline server (which stores application history), while the old tasktracker responsibilities are handled by the node managers. This change has improved upon many of the deficiencies present in the old MapReduce. YARN is able to run on larger clusters, more than doubling the amount of jobs and tasks it can handle before running into bottlenecks [10]. Finally, YARN allows for a more generalized Hadoop which makes MapReduce just one type of YARN application. This means it can be left out altogether in favor of a different processing engine.

Common [12] A set of common utilities needed by the other Hadoop modules. It has native shared libraries that include Java implementations for compression codecs, I/O utilities, and error detection. Also included are interfaces and tools for configuration of rack awareness, authorization of proxy users, authentication, service-level authorization, data confidentiality, and the Hadoop Key Management Server (KMS).
The Hadoop ecosystem is made up of a vast array of projects built on top of and around the core modules described above. These projects have been designed to aid researchers and practitioners in all aspects of a typical data analysis or machine learning workflow. Several companies such as Cloudera [13], Hortonworks [14], and MapR [15] offer distributions of Hadoop which bundle a number of these projects. Free and enterprise versions of the software bundles are available.
The general structure of the ecosystem can be described in terms of three layers: storage, processing, and management. While the primary focus of this paper is on tools that reside in the processing layer, it is important to understand the context of how they can be used in a workflow by looking at the makeup of the ecosystem as a whole. An example of how tools for different tasks may fit together as part of an analytical stack is shown in Fig.
2
. The specific projects listed inside this diagram and discussed in this section are examples of commonly used tools, but since the ecosystem is made up of well over 100 projects, it is not meant to be a comprehensive list. Readers who wish to learn more about the tools not discussed in this paper are encouraged to refer to the Hadoop website or [
10
] for more information.
Data processing engines
When MapReduce was introduced in 2004 by Google engineers [41], it had some early critics [42], but was considered by many to be revolutionary. Regardless of the differing opinions on the value of this idea, it paved the road for Hadoop, which has played a significant role in ushering in the big data era. In more recent years, MapReduce has begun to fall out of favor, particularly in the machine learning community, due to its high overhead costs, lack of speed, and the fact that many machine learning tasks do not easily fit into the MapReduce paradigm. In 2014, Google announced that it was being phased out in favor of other projects [43]. Since MapReduce has been decoupled from Hadoop through YARN, it is now a lot easier to work with a new engine on an existing cluster, and over the course of the past few years, a number of projects have been introduced that attempt to solve the issues inherent in MapReduce.
The processing models used for many of these may be categorized as either batch or streaming. A third model, known as bulk-synchronous parallel (BSP), is used for iterative graphing tasks, but will not be discussed in detail in this paper. While graph algorithms are related to ML, they are used more for traditional analytics and the focus of this paper is on other types of learning tasks. Examples of tools which employ the BSP model are Apache Giraph [44] and Apache Hama [45]. It should be noted though that Giraph has not had a commit since mid-2013. Both projects are open source implementations of Google's Pregel [46].
The remainder of this section will discuss some of the more widely used projects which leverage the batch and streaming paradigms. A high-level overview of these projects is in Table
1
. In addition to the underlying processing approach used, here are several important considerations for evaluation of these tools:
Table 1
Data processing engines for Hadoop
| | Current stable release (as of June 1, 2015) | Execution model | Supported languages | Associated ML tools | In-memory processing | Low latency | Fault tolerance | Enterprise support |
| --- | --- | --- | --- | --- | --- | --- | --- | --- |
| MapReduce | 2.7.0 | Batch | Java | Mahout | × | × | ✓ | × |
| Spark | 1.3.1 | Batch, streaming | Java, Python, R, Scala | MLlib, Mahout, H2O | ✓ | ✓ | ✓ | ✓ |
| Flink | 0.8.1 | Batch, streaming | Java, Scala | Flink-ML, SAMOA | ✓ | ✓ | ✓ | × |
| Storm | 0.9.4 | Streaming | Any | SAMOA | ✓ | ✓ | ✓ | × |
| H2O | 3.0.0.12 | Batch | Java, Python, R, Scala | H2O, Mahout, MLlib | ✓ | ✓ | ✓ | ✓ |
1.

Latency This refers to the amount of time between starting a job and getting initial results. Speed may not be important for every project. If a project is not time-sensitive, a batch system may be preferred for its simplicity, but for projects that are require real time or near-real time results, a streaming platform would be advised.

2.

Throughput Throughput measures the amount of work done over a given time period. This can be thought of as a measure of efficiency.

3.

Fault tolerance All of the platforms discussed in this paper are fault-tolerant but the methods which they use to achieve that may vary. We look at the mechanisms that are in place to detect failures, as well as how the platform is able to recover after such a failure occurs.

4.

Usability Despite the interfaces and abstractions discussed in the previous section and libraries for machine learning that will be discussed later in this paper, the typical user will spend a good deal of time interacting with the engine itself. With this in mind we ask, how difficult is it to install and configure? What interface language(s) does it use? How difficult is it to program for?

5.

Resource expense In this paper, we consider expense mostly in terms of time involved from setting up a cluster to deploying the model and maintaining it after the fact. Most of this is covered in usability. While we don't examine financial costs in this paper, they are important to consider as well. This will depend on whether the user has access to a high performance computing cluster. Purchasing the necessary equipment is not trivial, and the resources needed by processors can vary, so one decision may affect the other. Alternatively, clusters can be set up on cloud services such as Amazon EC2 [47] or Microsoft Azure [48], which charge on-demand prices based on compute time and storage space used.

6.

Scalability All of the processing engines discussed in this paper were designed to be scalable, but the different methods employed have varying degrees of success. For this reason, it is important to examine whether there are bottlenecks when data input or cluster sizes grow. Additionally, these engines were designed for very large data, but many real-world use cases involve at least some processing of smaller datasets. We look at how these are handled as well.
The approaches to processing differ in terms of throughput and resource expense, and there are additional platform-dependent features that should also be used for evaluation of these projects. To provide a comprehensive comparison, fault-tolerance methods, scalability, efficiency, interface language, and usability are covered below.
Machine learning toolkits
To perform machine learning tasks in Hadoop, one does not need a special platform or library. A person with programming skills may interact directly with any of the above platforms to roll their own code and many choose to go this route. A variety of machine learning toolkits have been created to facilitate the learning process but many researchers and practitioners reject them for various reasons, most often because they lack needed features or are difficult to integrate into an existing environment. One issue is that machine learning is a broad field of study and many of the available toolkits lack important functionality. Another problem is that without true expertise in the areas of programming and system architecture, many people lack a full understanding of what the various platforms are capable of. This is exacerbated by the fact that there has been little comprehensive research into many popular frameworks. Research moves much slower than development, so often by the time information becomes abundant, the community has already moved on to different tools. However, distributed learning algorithms are not trivial to implement, and those who do not wish to reinvent the wheel may find that they can save themselves significant effort by using or extending existing implementations. Table
2
provides an overview of four of the more comprehensive machine learning packages that run on Hadoop. Only distributed algorithms are listed in this table. Mahout includes several implementations that are not distributed and therefore not included, but they are discussed in the "
Evaluation of machine learning tools
" section.
Table 2
Overview of machine learning toolkits
Mahout

MLlib

H2O

SAMOA

Interface language

Java

Java, Python, Scala

Java, Python, R, Scala

Java

Associated platform

MapReduce, spark (H2O and flink in progress)

Spark, H2O

H2O, Spark, MapReduce

Storm, S4, Samza

Current version (as of June 1, 2015)

0.10.1

1.3.1

3.0.0.12

0.2.0

Graphical user interface

–

–

✓

–

Classification and regression algorithms

Decision tree

–

✓

–

✓a

Logistic regression

✓b

✓a

✓

–

Naïve Bayes

✓

✓

✓

–

Support vector machine

–

✓

–

–

Gradient boosted trees

–

✓

✓

–

Random forest

✓

✓

✓

–

Adaptive model rules

–

–

–

✓a

Generalized linear model

–

–

✓

–

Linear regression

–

✓a

✓

–

Clustering algorithms

k-Means

✓

✓

✓

–

Fuzzy k-means

✓

–

–

–

Streaming k-means

✓

✓a

–

–

Power iteration

–

✓

–

–

Spectral clustering

✓

–

–

–

CluStream

–

–

–

✓a

Collaborative filtering (cf) algorithms

User-based CF

✓

–

–

–

Item-based CF

✓

–

–

–

Alternating least squares

✓

✓

–

–

Dimensionality reduction and feature selection tools

Principal component analysis

✓

✓

✓

–

QR decomposition

✓

–

–

–

Singular value decomposition

✓

✓

–

–

Chi squared

✓

–

–

–

Additional algorithms

Association rule learning

✓

✓

–

✓a

Deep learning

–

–

✓

–

Topic modeling

✓

✓

–

–
Selection criteria
In a research or production environment, the choice of machine learning packages or specific algorithms will come down to a variety of different factors, mostly dependent on the needs of the specific group or project. A number of authors have tackled this subject, including [
87
–
89
]. Based in part on these studies, we offer a list of important considerations for evaluation of machine learning tools. These are presented in no particular order, since the prioritization of these factors will be dependent on particular use cases.
Scalability This should be considered with regards to both the size and complexity of the data. One should consider what their data looks like now, as well as what data they might be working with in the future, in order to determine if a particular toolkit will be appropriate. Scalability should be looked at in both directions, as some of the best tools for big data perform poorly on small data, and vice versa. This is also true for other data characteristics, such as dimensionality.

Speed The biggest factor affecting speed is which processing platform the library or algorithm is running on rather than the library or algorithm itself. However, some libraries are tied to specific platforms, so this is still an important consideration when selecting ML tools. As noted in the previous section, speed may not be important for every project. If models do not require frequent updating, a batch system may be preferred for its simplicity, but for models that are updated often, this may be a crucial concern.

Coverage This refers to the range of options contained in the toolkit in terms of different classes of machine learning as well as variety of implementations in each class. None of the available tools for big data provide a selection as comprehensive as some non-distributed frameworks such as Weka, but their scope may range from only a few algorithms to around two dozen. As many of the tools are difficult to set up and learn, it is important to consider future needs as well as current.

Usability In this case, one must weigh their project goals against the skills and expertise of their group. Usability may be considered in terms of initial setup, ongoing maintenance, programming languages available, user interface available, amount of documentation, or availability of a knowledgeable user community. If there is an existing analytics workflow, one should consider how well the tool can be integrated into this.

Extensibility Machine learning tasks are rarely one-size fits all. Whether it's something as simple as setting the value of k in a k-means clustering task [90], or building an ensemble of learners [91], most jobs will require some amount of parameter tuning before a model is deployed. The implementations included in the various tools are often used as building blocks towards new platforms or systems, so it is important to evaluate them in terms of how well they are able to fulfill this role.
Evaluation of machine learning tools
This section provides an in-depth look at the strengths and weaknesses of the various machine learning tools for Hadoop. Published literature using related tools is reviewed here if it is available. For a complete look at how the tools and engines fit together, Fig.
4
illustrates the relationships between processing engines, machine learning frameworks, and the algorithms they implement.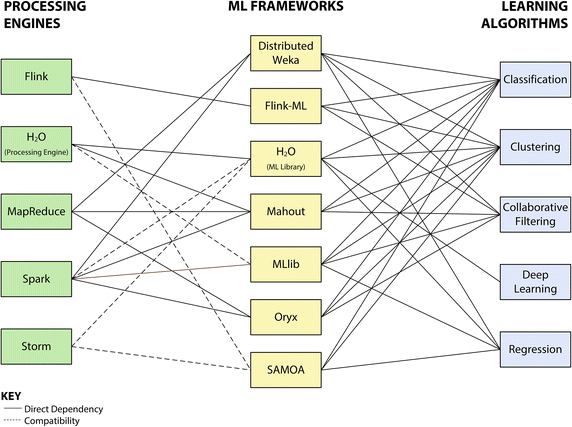 Conclusion
Current trends in technology, such as increased adoption of wearable computers and other Internet of Things (IoT) devices, are allowing for unprecedented access to massive amounts of heterogeneous data. Efficient learning from this data often requires complex architectures that utilize a combination of tools and techniques for collection, storage, processing, and analysis [169]. Putting together such an architecture would be extremely difficult even if there were limited options from which to choose. The open-source data science community is prolific, resulting in many options and many more decisions to be made.
As machine learning concepts are being increasingly adopted in research and production settings, the need for tools to facilitate learning tasks is becoming more important. Many of these tools are very young, and more research is needed to properly benchmark and evaluate all of the different options. Areas where this research is insufficient have been noted throughout this paper. We discussed the Hadoop ecosystem and a number of tools that are a part of it in order to provide context to how machine learning fits into an analytics environment. Three major approaches to processing (batch, iterative batch, and real-time streaming) were described and projects using each of them were presented and compared. Additionally, a list of criteria for evaluation and selection of machine learning frameworks was presented along with an in-depth look at both widely used and up-and-coming projects, with a discussion of their advantages and drawbacks.
We chose to focus the bulk of our research on processing engines and machine learning frameworks because those are the two most important types of tools in an ML pipeline. We chose projects in the Hadoop ecosystem for a number of reasons. First, they are among the most innovative we have seen. Additionally, there are few end-to-end services out there for machine learning and Hadoop projects tend to be designed with the intention of connecting with ones that already exist in this group. Finally, Apache projects tend to draw large numbers of active users who are helpful when problems arise.
The choice of tools will largely depend on the applications they are being used for as well as user preferences. For example, Mahout, MLlib, Flink-ML, and Oryx include options for recommendations, so if the intended application is an e-commerce site or social network, one may wish to choose from them for features such as item or user suggestions. Social media or IoT data may require real-time results, necessitating the use of Storm or Flink along with their associated ML libraries. Other domains such as healthcare often produce disparate datasets that may require a mix of batch and streaming processing, in which case Flink, Oryx, or Spark would be the best choice.
In this paper, we examined five processing platforms. MapReduce, once the de facto standard for big data projects, is becoming outmoded in the machine learning community and is not recommended for the majority of applications due to its slowness and lack of support for iterative algorithms. Spark is seen by many as a natural successor. It is based in MapReduce so the transition is not difficult, but it offers support for iterative tasks and is able to support all of the machine learning libraries that MapReduce does plus others. However, if real-time solutions are of importance, one may wish to consider Storm or Flink instead, since they offer true stream processing while Spark's use of microbatch streaming may have a small lag associated with it in receiving results. Flink offers the best of both worlds in this regard, with a combination of batch and true stream processing, but it is a very young project and needs more research into its viability. Additionally, it does not currently support nearly as many machine learning solutions as the other platforms. H2O is the only end-to-end system discussed in this paper and offers two features not present in other systems, which are a graphical user interface, and support for deep learning. Additionally, it supports as many or more machine learning tools than any of the other engines we studied. Like Flink, there is very little research on H2O, so more is needed for a proper evaluation.
No distributed ML libraries have the same amount of options as some of the non-distributed tools such as Weka because not every algorithm lends itself well to parallelization. Mahout and MLlib are the most well-rounded big data libraries in terms of algorithm coverage and both work with Spark and H2O. MLlib has a wider overall selection of algorithms and a larger and more dedicated team working on it, but is young and largely unproven. Mahout includes the most options for recommendation and has more maturity than the others. While Mahout was falling out of favor due to its reliance of MapReduce but this may change due to modifications made in the newest version. Now that it is focused more on the math needed for users to create their own algorithm implementations, we can conceive of situations in which a user may wish to be familiar with and utilize both Mahout and MLlib. SAMOA, like the new version of Mahout, has a focus on giving users the necessary tools to create their own implementations, the small amount of research in this area suggests it to be a viable option for stream processing. Real-time learning is increasing in popularity and we expect the amount of options available for it to increase as well.
Footnotes
1
A related project, SAMOA, does use Hadoop and is discussed in this paper.
2
There is not yet any literature available on the newest version of Mahout, so these ratings reflect the results of studies using versions 0.9 and earlier.
Declarations
Authors' contributions
SL performed the primary literature review and analysis for this work, and also drafted the manuscript. ANR and TH worked with SL to provide additional analysis and develop the paper's framework and focus. TMK introduced this topic to SL, ANR, and TH, and coordinated the other authors to complete and finalize this work. All authors read and approved the final manuscript.
Acknowledgements
The authors gratefully acknowledge partial support by the National Science Foundation, under grant number CNS-1427536. Any opinions, findings, and conclusions or recommendations expressed in this material are those of the author(s) and do not necessarily reflect the views of the National Science Foundation.
Competing interests
The authors declare that they have no competing interests.
Open AccessThis article is distributed under the terms of the Creative Commons Attribution 4.0 International License (http://creativecommons.org/licenses/by/4.0/), which permits unrestricted use, distribution, and reproduction in any medium, provided you give appropriate credit to the original author(s) and the source, provide a link to the Creative Commons license, and indicate if changes were made.
Authors' Affiliations
(1)
Florida Atlantic University, Boca Raton, USA