Erratum to: Structural and functional analytics for community detection in large-scale complex networks
Journal of Big Data volume 2, Article number: 19 (2015)
3109 Accesses

1 Altmetric
Erratum
After the publication of this work [1], we noticed that an incorrect version of Table two (Table 1 here) was published. An incorrect version of Algorithm four (Algorithm 1 here) was also published. The correct versions of Table two and Algorithm four are provided here and have been updated in the original article.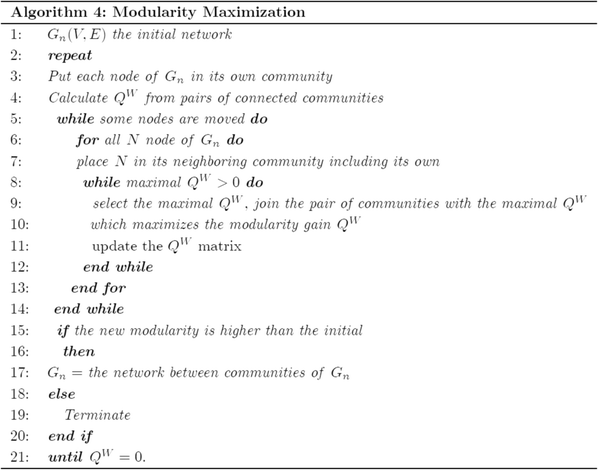 The publisher apologises for any inconvenience caused.
Reference
Chopade Z (2015) Structural and functional analytics for community detection in large-scale complex networks. J Big Data 2:11
Additional information
Pravin Chopade and Justin Zhan contributed equally to this work.
The online version of the original article can be found under doi:10.1186/s40537-015-0019-y.
Rights and permissions
Open Access This article is distributed under the terms of the Creative Commons Attribution 4.0 International License (http://creativecommons.org/licenses/by/4.0/), which permits unrestricted use, distribution, and reproduction in any medium, provided you give appropriate credit to the original author(s) and the source, provide a link to the Creative Commons license, and indicate if changes were made.
About this article
Cite this article
Chopade, P., Zhan, J. Erratum to: Structural and functional analytics for community detection in large-scale complex networks. Journal of Big Data 2, 19 (2015). https://doi.org/10.1186/s40537-015-0026-z
Received:

Accepted:

Published:

DOI: https://doi.org/10.1186/s40537-015-0026-z