Cabinet Tree: an orthogonal enclosure approach to visualizing and exploring big data
Journal of Big Data
2015
2:15
Received: 28 February 2015
Accepted: 29 June 2015
Published: 22 July 2015
Abstract
Treemaps are well-known for visualizing hierarchical data. Most related approaches have been focused on layout algorithms and paid little attention to other display properties and interactions. Furthermore, the structural information in conventional Treemaps is too implicit for viewers to perceive. This paper presents Cabinet Tree, an approach that: i) draws branches explicitly to show relational structures, ii) adapts a space-optimized layout for leaves and maximizes the space utilization, iii) uses coloring and labeling strategies to clearly reveal patterns and contrast different attributes intuitively. We also apply the continuous node selection and detail window techniques to support user interaction with different levels of the hierarchies. Our quantitative evaluations demonstrate that Cabinet Tree achieves good scalability for increased resolutions and big datasets.
Keywords
Orthogonal enclosureTree drawingHierarchical visualizationBig data
Introduction
Much of data we use today has a hierarchical structure. Examples of hierarchical structures include university-department structure, family tree, library catalogues and so on. Such structures not only play significant roles in their own right, but also provide means for representing a complex domain in a manageable form. Current GUI tools, such as traditional node-link diagrams or file browsers, are an effective means for users to locate information, however one major drawback of common node-link representations is that they do not use screen real estate very efficiently [1, 2].
In the real world, hierarchical structures are often very large with thousands or even millions of elements and relationships. Therefore, a capability of visualizing the entire structure while supporting deep exploration at different levels of granularity is urgently needed for effective knowledge discovery [3]. Enclosure or space-filling visualization, such as Treemaps techniques [4, 5] propose an interesting approach to solve this problem. The Treemap algorithm ensures almost 100 % use of the space by dividing it into a nested sequence of rectangles whose areas correspond to an attribute of the dataset, effectively combining features of a Venn diagram and a pie chart [6]. Originally designed to visualize files on a hard drive [7], Treemaps have been applied to a wide variety of areas ranging from financial analysis, sport reporting [8], image browsing [9] and software and file system analysis [10].
As an important application issue, scalability refers to the capability of effectively displaying large amounts of data [11]. Pixel is the smallest addressable element in a display device, so screen resolutions become the limiting factor for scalable visualizations. Larger displays with higher resolutions are being developed for visualization [12] (e.g. the large wall at the AT&T Global Network Operations Center [13]). Therefore, scalability for high resolutions and large data sets become crucial for visualizing big data.
Much attention has been devoted in recent years to enhance the layout algorithm of Treemaps (e.g., [4–6, 14, 15]). Few studies, however, paid attention to the improvement of interaction techniques for navigating Treemaps or other display properties. Yet, Treemaps are not very convenient for exploring large hierarchies, especially when it is necessary to get access to details [2]. It also requires extra cognitive effort for viewers to perceive and understand the relational structures that are implicit in the enclosure [16]. Hence, the use of other display properties (e.g. color, label) is important for an intuitive visualization and efficient interaction techniques are necessary for navigating large Treemap to view details.
This paper presents a space-filling technique, called Cabinet Tree, for visualizing big hierarchical data. Our contributions include the following aspects in the design of Cabinet Tree:
Interleaved Horizontal-Vertical and explicit drawing of branches and space-optimized layout for leaves, generating a highly compact and intuitive view;

A contrast-enhanced color strategy and color-coded sorting of leaves to reveal visual patterns;

Focus+context based interaction support at different levels of hierarchy;

Quantitative evaluation of scalability for big data (including hundreds of thousands of nodes) with increased resolutions.
Background and literature review
The design of an interactive visualization is often considered as two steps.The first step is to map the relational data into a geometrical plane. i.e. layout. The second step is interaction, i.e. changing views interactively to reach the desired information [17]. However, display properties are also very helpful in providing insights in the hierarchical structure [18]. We review related work on layout design, the use of display properties and interaction design.
Research design and methodology
To support effective visualization of big hierarchical data, we consider the following design criteria:
Balanced trade-off between space utilization and clarity of relational structures;

Scalable for increased resolutions and data sizes;

Good readability;

Fast layout algorithm;

Proper mapping of display properties to data attributes;

Intuitive navigation and node selection at different hierarchical levels;

Views with focused details and the global context.
We call our approach Cabinet Tree since it resembles objects stacked in a large cabinet. Branches of the tree partition the cabinet while leaves fill the remaining partitioning space (see Fig.
2
).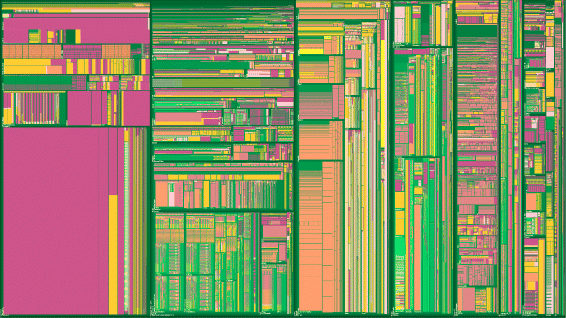 Previous user studies report that S&D Treemap has the best readability [6, 19], so our design follows the 2D orthogonal concept of S&D Treemap to enable a fast cognitive process. Cabinet Tree draws branches explicitly to reveal their hierarchical relationships. Moreover, a space-optimized layout algorithm is applied to leaves to obtain a compact view. Cabinet Tree is generally scalable for increased resolutions and data sizes as demonstrated by our experiments.
Comparison of attributes within a hierarchical structure is crucial for many applications, however, rectangles in S&D Treemap are hard to compare [5]. In Cabinet Tree, a contract-enhanced color strategy is adopted to the mapping of attributes for viewers to compare them easily. We apply color-coded sorting to data items to reveal visual patterns among groups of related nodes. The color and orientation of labels are also studied in our work.
To overcome the node selection dilemma in Treemap [2], we support continuous node selection using mouse wheel. Furthermore, the focus window technique is implemented to show the details without distortion. The remaining part of this section addresses the design rationale and realization of Cabinet Tree.
Results and discussion
Case study
We use Cabinet Tree to visualize file systems to illustrate its effectiveness and scalability. File types are color-coded as shown in Fig.
13
.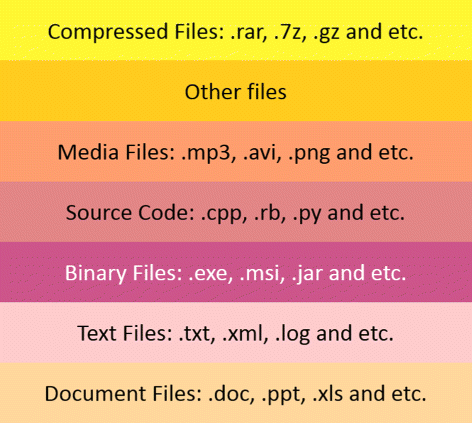 Cabinet Tree first visualizes the file system of "CodeBlocks Application" which contains 2,673 files and 262 directories, as shown in Fig.
14
. Figure
14
a
uses the file count as the weight, clearly showing that "CodeBlocks Application" consists of 4 major parts:
Media files (in Soft Orange),

Small folders (bundled in Green) and files with unspecified types (in Vivid Yellow), and

Compressed files(in Light Yellow).
Figure 14 b uses the file size as the weight, and reveals that binary files (in Moderate Pink) takes the largest space.
Another example shown in Fig.
15
is "Visual Studio 2012 Windows Application" folder with 36,722 files and 7,399 directories (including 16 empty ones), weighted on file counts. Figure
15
clearly shows that several folders share similar structures in this dataset. For example, "ProjectTemplates" and "ProjectTemplatesCache" subfolders have similar structures; "ItemTemplates" and "ItemTemplatesCache" subfolders share similar structures. By manually inspecting these folders, we find that "ProjectTemplatesCache" is the backup folder for "ProjectTemplates" and "ItemTemplatesCache" is the backup folder for "ItemTemplates". Original and backup folders should of course be similar.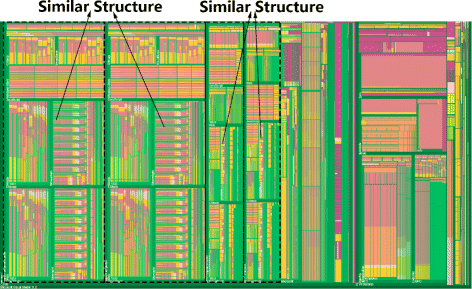 Cabinet Tree is able to handle big data with hundreds of thousands of nodes. For example, Fig. 2 presents a C drive contents on a personal computer with 455,940 files and 74,350 directories (including 3,520 empty directories).
Scalability evaluation
Having implemented Cabinet Tree using JavaScript, we compare it with Squarified Treemap and S&D Treemap both built on Data-Driven Documents (D3js) [31] which also uses JavaScript. The "round" configuration of D3js Treemap was set to "true" to ensure every node to occupy an integer number of pixels.
To evaluate scalability with increased resolutions, we use two large datasets (D Drive and C Drive 1 in Table 4) on 7 wide screens (640 × 360, 960 × 540, 1,280 × 720, 1,600 × 900, 1,920 × 1,080, 2,560 × 1,440 and 3,840 × 2,160). In this evaluation, we wish to find the trend of the percentage of visible nodes (among all the nodes) and the layout time (excluding the file reading, rendering and displaying time) with increased resolutions.
In summary, Cabinet Tree is highly scalable with increased resolutions in both speed and percentage of visible nodes.
Figure 20 shows that when the data sets get bigger, the space utilization for leaves by Cabinet Tree is decreasing, and drops dramatically from Office 2013 (5,064 total number) to Hadoop (13,519 total number).
In summary, Cabinet Tree is more scalable than S&D Treemap in all the cases we experimented. Due to its explicit visualization of branches, Cabinet Tree performs poorer than Squarified Treemap in scalability. However, given a space, Cabinet Tree can fill more leaves than S&D Treemap and Squarified Treemap since the average number of pixels per leaf is less than the latter two methods (Fig. 21).
Conclusions
This paper has presented a 2D approach for visualizing big hierarchical data, called Cabinet Tree. Using the enclosure and orthogonal drawing methods, Cabinet Tree performs a space-optimized layout for leaves and explicit branches with carefully designed color schemes for aesthetic and clear visualization. Color-coded sorting, contrast-enhanced color strategy and labeling techniques all make full use of display properties. Cabinet Tree also supports continuous node selection using the mouse wheel and Focus+Context view using the detail window.
Quantitative evaluations have indicated that Cabinet Tree is capable of visualizing huge datasets. It is anticipated that with higher screen resolutions, trees of hundreds of millions of nodes can be visualized on a single display. Being scalable for increased resolutions and data sizes and high layout speed, Cabinet Tree can be considered an effective tool for visualizing huge hierarchical structures in a wider range of applications.
Authors' Affiliations
(1)
School of Computer Science and Technology, Tianjin University, Tianjin, China
(2)
School of Computer Software, Tianjin University, Tianjin, China
(3)
Caulfield School of Information Technology, Monash University, Melbourne, Australia
(4)
Department of Computer Science, The University of Texas at Dallas, Richardson, USA
(5)
MARCS Institute and School of Computing, Eng. and Maths, University of Western Sydney, Sydney, Australia
Copyright
© Yang et al. 2015
This is an Open Access article distributed under the terms of the Creative Commons Attribution License(http://creativecommons.org/licenses/by/4.0), which permits unrestricted use, distribution, and reproduction in any medium, provided the original work is properly cited.